New Netflix Original "Wednesday" Becomes an Instant Hit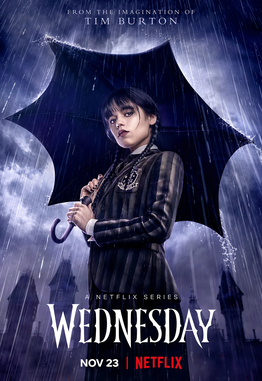 Netflix original "Wednesday" starring Jenna Ortega has been topping the charts since its premiere on Nov. 24, 2022. The show has now earned the title of second most-watched series with over a billion hours viewed on Netflix. The series features the Addams family's daughter, Wednesday, as she navigates boarding school and discovers her family's past. However, it wasn't just the stars on this show that caused students to watch it, but also the storyline itself.
"I loved the storyline," sophomore Meeka Rahimi said, "I found myself wondering what was coming next, and brainstorming possible endings with my friends."
Students often find themselves relating to her, as she doesn't worry about fitting in or changing herself, and has a unique, stand-out personality. 
"I look up to her because she doesn't care what people think about her, she lives how she wants to without letting anyone get to her," freshman Ariena Thurairajah said.
Fans of "The Addams Family" were also excited to see the characters reimagined in a deeper and more meaningful way. This brought students to watch the series to see what crazy adventure is next for the Addams family. 
"I loved how the series brought the Addams family to life by adding more dimension to the characters," Thurairajah said. "It was like getting to know them better."
Apart from the show itself, students were also interested in Wednesday actor Jenna Ortega herself. It was a big step for Ortega to go from Disney show actor on "Stuck in the Middle" to this chart-topping Netflix show. 
"She played Wednesday perfectly, and exactly how I imagined her when I was a kid," Rahimi said. "She was perfect for the role."
Apart from Ortega, students were also impressed by Tim Burton's directing on the show. He gave the Addams' family style, exactly what it needed. 
"The darkness and humor that comes with the original movies and Wednesday herself were perfectly captured," Rahimi said.
According to Rotten Tomatoes, the show has an 86% recommendation rate. 
"I would definitely recommend the show, I had so much fun following the storylines, and Wednesday's character development," Thurairajah said.
The show has been confirmed for a second season by Netflix, however it is unknown when this will come.