Tyner's Top 10 of the year (by The Point)
May 22, 2019
1. Mindfulness Center  This year PV High took another step into helping the mental health of their students by creating a Mindfulness class on campus. Taught by Tammy Sheridan and Jill Moeller, the class aims to spread wellness and teach students how to reduce stress. The Mindfulness classroom is not like any other classroom on campus. Dimmed...
Leaving Ignorance Behind, Moving Tolerance Forward
Seren Cho and Jamie Doo
May 22, 2019
We've been through this before. The past few years, we've gone through similar incidents. A student does something offensive, it goes around school, and then we move on. We forget. And, it'll happen again.This year's racist promposal caused more controversy than any other incident in previous years.  The controversy made national...
Turner Helton, Reporter
October 23, 2019
Everyone's favorite webslinger, Spider-Man is coming back to future Marvel films because of the recent contract agreement between Sony and Marvel Studios. I am ecstatic...
A PVHS Halloween: Striking a Balance Between Trick and Treat
October 23, 2019
Let's just say this: PVHS' legacy with Halloween is one full of chaos, controversy, or fun - it all depends on who you...
October 23, 2019
Are There Issues Associated With Shows Being Overly Graphic? Suicide, drug abuse, violence, sexual imagery: these are just...
May 2, 2019
Sea Kings discuss their identities. Students interviewed range from freshmen to seniors, students to teachers, and fashionistas to programmers. FASHIONISTA Grace Borden,...
April 7, 2019
April 7, 2019
April 7, 2019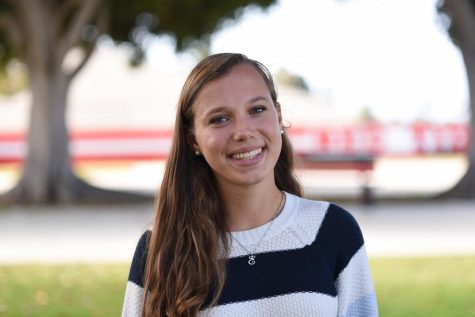 Ella Dorst
Reporter
Ella Dorst is a sophomore at PV High.  Ella moved to PV from Virginia in 8th grade. In her free time, Ella enjoys reading, hanging out with friends, and playing the piano. She plays forward for soccer...
PVHS Teacher Wins Seat on City Council
December 11, 2019
"It's a beautiful place to live. It's a beautiful place to raise kids and I don't want to see it change." That's what Spanish teacher, Barbara Ferraro, said when asked about what made her...
December 11, 2019
Last night on December 10, Jazz Bands 1 and 2, as well as the PVIS Jazz Ensemble, performed in their annual winter concert.  The PVIS Jazz Ensemble opened with jazz classics including "Freddie Freeloader,"...
The Pink Tax: The Extra Cost of Being a Woman
December 11, 2019
Products such as shampoo, razors, and deodorants are considered necessities. But most people don't realize these necessities can actually vary greatly with price depending on their gender.  Walk into...