Bearing Down the Next Four
After 12 years of dominating on the tennis courts, senior Parker Fry is taking her skills to the University of Arizona. 
Growing up, Fry played other sports including swimming, basketball, and soccer but none of them compared to her love for tennis. In sixth grade she had to make a decision between soccer and tennis; after choosing tennis she began to train hard everyday. 
"I decided to play tennis because I really loved the sport and how individual it is. It also helped that my mom played so she helps me a lot." Fry said. 
In eighth grade she had decided that she wanted to play collegiate tennis. Fry started to work even harder to reach the goal of playing in college. She has multiple workouts a day with tournaments on the weekends. Fry put her all into it. 
Her training involves strength conditioning, private lessons with coaches, practicing daily, and tournaments. 
All the hard work that she puts in is tested in a tournament against other top players in the country. 
Fry has been on the PVHS varsity team all four years. Freshman and sophomore year she won MVP. During her junior year, Fry won the Bay League singles. 
In addition to dominating on the courts, Fry also enjoys the community of the team.
"It is so nice to be surrounded by great girls and to have a team atmosphere since tennis is individual," Fry said. 
As Fry finishes her senior season, she is currently undefeated in singles.
Fry's recruiting process was different than she expected with COVID-19. She was able to talk with coaches over the phone and zoom calls. Fry was able to contact girls on the team through instagram and talk to them about their experiences at those schools. She had to make her own visits to schools. 
After visiting the campus and talking with the coaches, Fry committed to the University of Arizona.
"I loved the campus and everything that is offered at Arizona. Also of course the tennis coaches and the team are so great, everything I was looking for and it felt right and like home when I was on campus," Fry said.
About the Writer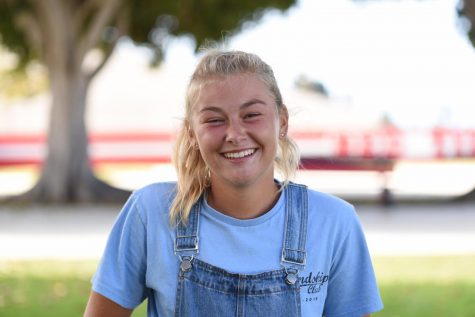 Emily Typrowicz, Sports Editor
Emily Typrowicz has been a staff member of The Point ever since she was a freshman! Her bubbly personality keeps things fun in the newsroom. You can find...