How Will Fans Choose to Remember Kobe?
Since the passing of Kobe Bryant, many Laker fans have been debating between potential statues to remember Kobe.
From his arms stretched out on the stands after the 2010 championship to sitting with Gianna courtside enjoying a Laker game, fans have many distinct ideas for Kobe's statue. Some fans are even suggesting more than one statue to remember Kobe.
First, we have Kobe's arms stretched out on the stands after winning Game 7 of the 2010 NBA Finals.
This iconic pose is a symbol of the return to dominance of the Lakers after a period of dysfunction during the mid-2000s.
Ever since the departure of Shaquille O'Neal in a trade to the Miami Heat following the disappointing loss of the 2004 NBA Finals featuring a team of Karl Malone and Gary Payton, Kobe Bryant stuck with the team through ups and downs.
After a few seasons of turmoil, Kobe Bryant and recent additions Pau Gasol and Lamar Odom led the team back to its dominance.
Even after losing to the Celtics back in 2008, the Lakers stuck together, winning back to back titles in 2009 and 2010 against the Orlando Magic and the Boston Celtics, respectively.
Second, we have a statue of Kobe and Gianna, his second daughter, sitting courtside at a Laker game.
Kobe was seen to be analyzing the games earlier in the regular season of 2019 to Gianna, with Gianna listening on and absorbing the advice from her legendary father.
A statue that depicts both Gianna and Kobe will symbolize the post-basketball career of Kobe Bryant: a father and businessman that worked with the same mentality and determination as he did while playing the game of basketball.
Some WNBA players have even called Gianna the future of women's basketball.
Gianna showed Kobe's mamba mentality and brought with her a sense of Kobe to every single game she played.
Lastly, we have the 2000 Western Conference Finals Kobe to Shaq lob that sealed the game and eventually the series.
This was the most iconic moment between Kobe and Shaq as teammates, symbolized a connection unlike any other.
The connection between Kobe and Shaq on the alley-oop also represented the three-peat the Lakers enjoyed at the turn of the century.
After Magic Johnson announced his retirement in the mid-1990s, Shaq and Kobe brought the team back into prominence.
Whatever the statue may be, Kobe Bryant will always be one of the most iconic figures in Los Angeles culture.
About the Writer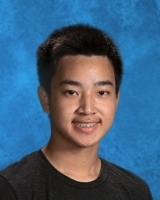 Curtis Liu, Online Editor
Curtis Liu has been a staff member of The Point since his sophomore year, and the editor of the paper's very own website (which you are currently on)....