Boys' WaPo Climbs the Ranks
Vikesh Dheeriya, Reporter
October 23, 2019
A major factor for Boys' Water Polo's wins against Foothill and other great teams was bringing back almost the same exact team from last year. The water polo team only lost two players last year after they graduated.
Coming off a win against Foothill High School, the boys' water polo team climbed to 8th place in the ranks of Southern California.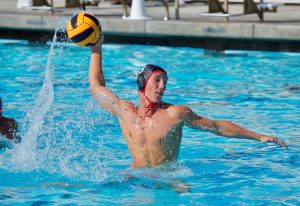 They have an end goal of becoming a top playoff team. In order to achieve that goal hard work and preparation is necessary.
This 8-7 overtime win against Foothill was special for the water polo team since the Knights knocked the Sea Kings out of CIF in the first round last year.
Although the loss against Foothill was heartbreaking last year, varsity player and junior Kai Mohl thinks that the loss last year actually helped them in the long run.
"I think it was a motivating factor for us, losing that game," said Mohl.
"I think this year the loss has put us in a much better place mentally and physically, we've prepared better for the end of the season rather than just focusing on winning all the games in the regular season," he said.
This has given almost the entire team a chance for redemption at CIF this year.
Bringing back almost the same team has been "hugely important, it's really helped our team chemistry, which has led to us getting some big wins in clutch moments," said Mohl.
"That's something you can't just build over night, that's something that was built over the years and years of playing together," Mohl said.
The team isn't completely the same as last year. Montenegrin star Igor Uskokovic, who was a varsity starter last year could not return to the US to play his senior year.
The United States Embassy denied his student visa because he was not in Montenegro long enough for him to return.
Although this was sad news for many players on the team, they have found ways to adapt.
"Igor is a great player… and was one of our big offensive threats , but I think we've done a good job compensating for it. I think we are a better team this year than we were last year," said Mohl.
Even with the numerous wins in Bay League, Varsity Head Coach Patrick O'Brien doesn't put winning those games as his number one priority.
"Our end goal is to be the best team we can be at the end of the season, so everyday wins or losses, we're not super focused on right now," O'Brien said.
"It's just about how much better we can get from now to the end of the season," O'Brien said.
For water polo, CIF is the most important tournament of the year and is the best way a team can measure how their hard work has paid off.
"CIF is obviously the end measuring stick because that's our final tournament and if you lose you go home and so how well we do there is something we are working toward," O'Brien said.
"Everyone is bigger, stronger, smarter this year and everyone just doesn't want a repeat of last year so that's the big motivation," varsity senior Jake Leonard said.
Coach O'Brien is confident that "this is one of the best teams we have ever had. I think the boys have been working really hard and it's showing with our competitiveness."