Summer Offseason Not So Off
Nikki Ringer, Writer
September 21, 2018
Hang on for a minute...we're trying to find some more stories you might like.
As the new school year starts, fall sports teams are gearing up for their new season.  
The Varsity Football team has been practicing all summer long, sometimes even twice a day. They are working on all plays that need to be set. The team captains have been focusing on team bonding so everyone can work well together. Senior Captain Luka Kielbasa said, "We're all a family, like brothers playing around together and making sure no one's left out."
Special teams have also been a strong focal point for coaches to prepare the team to get everyone on the same page for Bay League.
Junior Jake Wilson agreed, "Coach Gardner especially does a good job about making sure our team understands each play so we can execute it well."
Varsity Girls' Volleyball is in full force, pulling together their team for the new season. The two new Junior captains, Kate Lane and Finley Shannon, are focusing on getting the team to work well together in games.
Lane said, "Our team has a really strong defense, but our offence definitely needs to click more."
For them, pushing each other in practice really helps to achieve the outcome they want for games.
In this season, they're really looking to move forward in Bay League and CIF. Junior Ariel Campbell said, "Hopes are high for us and things are looking like we can take it all the way to quarter finals of CIF."
After getting 2nd in the Bay League and winning CIF last year, the PVHS Cross Country team has been focusing on getting everyone ready to reach their goal of winning nationals.
Senior Will Teets said, "There's no problem getting to state and CIF, it's just getting on the podium and winning."
Coaches are pushing the team to build up their endurance before the next meet. Runs in practice consist of ten miles or more, and work out days include tempo runs or hill workouts.
Coach Brian Shapiro said, "We just need to take care of all the little things each day to make sure we are where we want to be to come meet time."
Keeping up their status of winning league last year, Varsity Girls' Golf has been stressing low scores to get past the first round of CIF. This team has been focusing on playing their home course to get freshmen familiar with the sport.
"Some girls don't get to play the home course as often so we make sure we know it well to keep our scores low," said Captain Megan Gormley.
Their team has become very close, especially because there's only 16 girls throughout the program, and their coach makes sure they all have a meaning to play.
Senior Tally Gonzales said, "We girls are all close, and our coach Ray has motivated us to play well for him and each other."
After sizing down from twenty-two to thirteen players, the Varsity Girls' Tennis team has a strong bond between them. They are an older, but small team, so the upperclassmen will help with getting the new players to work well with the rest.
Junior Mikayla Keshtkar said, "Our team has two new freshmen players and a small team this year has been foreshadowing some good matches for us."
Practice for them has been focusing on match play and drills for serving. Last year they won their Bay League doubles and are hoping to get more plays down for this season.
Sophomore Rachel Post said, "Our singles players are working on strategy, while our doubles players have a focus on the movement at net and their strokes."
Varsity Boys' Water Polo has been swimming hard all summer to prepare for this new season and are getting in shape to win Bay League.
Their team has been working well together and motivate each other during practice.
Coach Pat O'Brien said, "There's a great camaraderie amongst our team so it's a good environment for them to be playing in as well."
Practice is a time for them to focus on defense and scrimmages in order to get ready for their games.
"We have mostly been working on our defense, even during summer practice, our coach Pat has been making sure we are all good on man-ups and getting back," said junior Jake Leonard.
About the Writer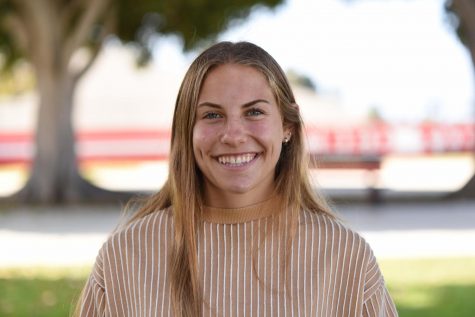 Nikki Ringer, Social Media Editor
Nikki is a senior this year and this is her second year on The Point. She plays on the soccer and lacrosse team. Nikki enjoys listening to country music...