Tritons Walk for the Fight
Each February, Be the Change (BTC) plans and operates the much-anticipated Remember the Tritons Walk. The walk brings Sea Kings together as well as the general community of Palos Verdes for a charitable cause. 
For as long as the walk has been around, all of the walk proceeds have been donated to the UCLA Jonsson Comprehensive Cancer Center to promote cancer research. 
However, this year the Remember the Tritons Walk has come to represent a much more profound and personal cause at PVHS. 
At the end of the 2018-2019 school year, Dr. Keely Hafer, PVHS' associate principal, suddenly took an extended leave of absence from school. Little did the students know that she had been diagnosed with leukemia and was forced to undergo a battle for her life. 
To make matters worse, the community was shocked when Head Basketball Coach Brian Edelman announced he was diagnosed with Stage IV colon cancer. Both of these diagnoses deeply affected students and staff, and BTC decided that they should honor them in some way with their annual walk.
"We hope, with this walk, that we can bring the community together to support our staff and raise money for a cause very close to us," BTC Co-President Charlotte Tight said.
With this new walk came a new charity that Be The Change will donate the proceeds to. Coach Edelman and Dr. Hafer's diagnoses have inspired BTC to donate the walk proceeds to the Leukemia and Lymphoma Society (LLS). 
According to lls.com, the mission of LLS is to "cure leukemia, lymphoma, Hodgkin's disease and myeloma, and improve the quality of life of patients and their families." With its mission in mind, LLS has raised $1.5 billion for cancer research since its inception in 1988. However, LLS needs more in order to achieve its ultimate goal of finding a cure for cancer.
Last Friday, on an uncharacteristically warm winter afternoon, hundreds of Sea Kings and members of the Palos Verdes community participated in the Remember the Tritons Walk. Participants walked a roughly mile-long course around PVHS while being pelted with colored powder, signed t-shirts in support of Dr. Hafer and Coach Edelman, and, most importantly, reflected on the circumstances of the walk. 
"It was really fun getting covered in powder at every corner and being able to experience it with my friends," junior Griffin Puhl said. 
"I felt happiest in knowing I was supporting a great cause."
At the end of the day, the walk raised a record $20,000, all of which will be donated to LLS. Not only does the success of the walk allow groundbreaking medical research, but it is also symbolic of Palos Verdes High's unwavering dedication to its staff. 
"We hope that Dr. Hafer and Coach Brian feel supported and know that they aren't the only ones fighting – we are too," BTC Vice President Carter Harrigian said.
About the Writer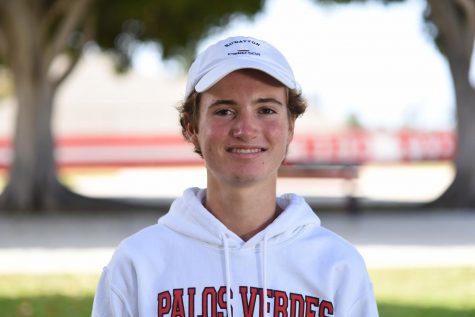 Fin Kehrli, Reporter
Fin Kehrli is as first-year member of The Point staff. You can find him keeping busy on campus: reporting for the newspaper, running for XC/track, taking...