Mrs. Salgado Does it All: Teaching, Training, Parenting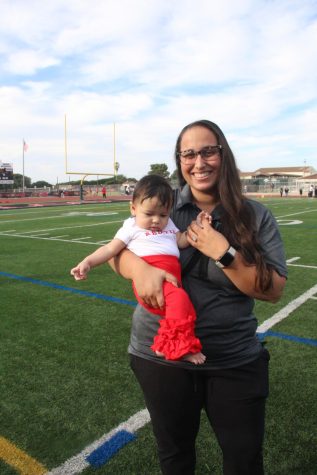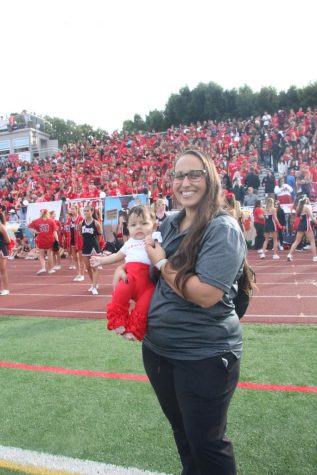 Only her second year on campus as a teacher, Marissa Salgado does it all. Many students are familiar with her, whether they have had her as an anatomy or biology teacher, or have seen her in the training room working with athletes as PVHS' athletic trainer. 
Inspired by recovery from her own injuries during high school, Salgado began her career working as an athletic trainer. 
"I was injured a lot in high school, so I spent a lot of time in the training room and it was just something that interested me," Salgado said. "I wanted to figure out why I was hurt and how I could get better faster. I liked the idea of physical therapy, but I didn't really like the office setting, so athletic training is a perfect mix of physical therapy and being out at the sports."
However, she soon realized she wanted to do more. Now, she has expanded her role to teach Honors Anatomy and Physiology, as well as AP Biology at PVHS.
"I decided to start teaching because once I started working at the high school level I just fell in love with it," Salgado said. 
"The kids were so inquisitive about their bodies and their injuries and I thought [what would be better] than to teach them about it."
While teaching the classes and being one of the only two athletic trainers on campus is already a lot to juggle, Salgado has also been adjusting to life at home with a new baby. 
"I am fortunate because my daughter is very well-behaved so she sleeps a lot, so I am getting enough sleep. The time management between preparing for class, making sure I am in the training room, and also giving her time at home and making sure she's fed and happy has been a little difficult to adjust to this year, but I think I'm doing well."
Salgado's colleague and friend, Honors Marine Biology and Life Science teacher Ashley Hughes, really enjoys working with Salgado. 
"It's fun to go over [to her class] and talk but it's also really nice to have a fellow science teacher that I can bounce ideas off of," Hughes said. "She brings such great energy, so I love seeing her every morning with a smile on her face because it really brightens my day up."
A fun fact about Salgado that her students might not know is that she loves to travel.
 "I used to travel a lot as a kid for my brother's hockey tournaments," Salgado said. "When I was younger I didn't really like it. I was always on the road and was never home for my birthday, but as I got older I spent my birthday every year in a different city so it was actually really cool." 
In the future, Salgado hopes to continue traveling all over the world. 
Salgado has also been hard at work trying to implement a new program at PVHS. 
"I have begun having students help us in the training room," Salgado said. 
"So my goal would be to teach anatomy and physiology like I do now and also have a sports medicine course kids could take. They could then intern with me in the training room to get volunteer hours and hands-on-experience beyond the classroom."