A PVHS Halloween: Striking a Balance Between Trick and Treat
Let's just say this: PVHS' legacy with Halloween is one full of chaos, controversy, or fun – it all depends on who you ask.
The senior class, year after year, comes up with an intricate plan to wear two costumes: one for the senior girls and one for the senior boys. It's a fun opportunity to have a sense of unity and fellowship with your peers. However, just like in the Halloween of 2016, the tradition has gone up in smoke, but in a much more "un-fun" way.
As a freshman on that frightening October 31 of 2016, PVHS turned into a war zone. Walking out of 4th period Geometry, the clear air on campus turned white. Screams and laughter heard together in terrifying harmony as the baby powder, silly string, and shaving cream shot from all directions.
A putrid smell filled the halls – the smell of sardines that were flung by the senior penguin girls.
Non-seniors fled into classrooms with a powdered-sugar-like finish on their face.
Now, this all sounds like quite the fright for a Halloween sight, but in the end, it's safe to say that many students loved it. Yes, they loved it.
The exhilaration, the fear, the rush. That was the spirit of Halloween in years' past.
However, that feel of adrenaline came with a generational cost.
New rules and regulations were drilled in, extra security was hired and deployed, and harsh punishments made the stakes for the Halloween antics very high.
Now, you'd think the seniors since then would've found a way to have the same energized spirit but learned not to repeat such actions, but you'd be wrong.
The two Halloweens since that fateful day did not meet the same level of hype as the notorious 2016 Halloween, especially last year, with half the senior girls being hotdogs (they seriously dressed as hotdogs and sang a hotdog jingle) and the boys being "ghosts" (they weren't at school, but they're ghosts. You can't really see ghosts. Get it?).
The student body of PVHS have yet to encounter the same Halloween spirit that the Class of 2020 encountered when they were freshman.
Everybody has to experience a Sea King Halloween with a similar vibe, energy, and hype as 2016, but in a safe and proper way unlike 2016. It'll ensure that students aren't traumatized, and it will make it less likely for future Halloweens to be frowned upon – all while having a blast with all your peers.
This year, seniors can take a shot at creating an awesome and eventful Halloween for everyone to remember.
It's time to reclaim our spirit. It's time to revitalize our energy. It's time to make this right.
About the Writer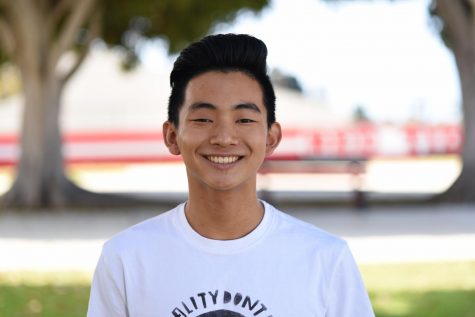 Kyle Ahn, News Editor
Kyle Ahn is a senior who is in his second year as a member of The Point. He is the co-editor of the news section. He is very excited to see how The Point...