Meet the Class of 2020 – Presidential Candidate Run Down
Sarah Liu, News Editor
February 25, 2020
Joe Biden
Former Vice President Joe Biden is no stranger to presidential campaigns, running for the office in 1988 and 2008. Most young voters will recognize him as Vice President under the Obama administration, something Biden has capitalized on as he frequently cites Obama-era policies and reforms during debates and stump speeches. His time as a Senator and as VP has become somewhat of a liability- he's been questioned on his record of working with segregationist politicians and his vote to authorize the use of force in Ira1 in 2002. However, Biden has made a number of apologies on what some see as political missteps and has attempted to correct the record on his role in the war in Iraq, stating that it was his responsibility to coordinate all agencies involved in Iraq, effectively bringing 150,000 combat troops home. Biden enjoys fairly consistent support from the African American community, which has traditionally backed moderate or "establishment" candidates. Originally considered the Democratic frontrunner, early caucus and primary losses in Iowa, New Hampshire and Nevada have fractured that status, especially his argument that he is the most electable candidate in a time of extreme partisanship. However, with the upcoming primary in South Carolina, where the percent of black voters is greater than the national average, Biden is looking to regain some lost ground.
Pete Buttigieg
Relatively unknown at the beginning of the primary race, former mayor of South Bend, IN, Pete Buttigieg, has enjoyed a meteoric rise into the national spotlight. Buttigieg is often seen as a young Joe Biden, given their similar moderate leanings. If elected to office, Buttigieg would not only be the youngest elected president but the first openly gay president. Although a political newcomer, his tenure as mayor boasts economic revitalization in the city, a small-town success Buttigieg argues can be replicated and is appealing to voters across the country. Among Buttigieg's signature issues is healthcare reform, with a plan he touts as "Medicare for All-Who-Want-It," giving people the option to opt into a public healthcare plan given they don't like or have private insurance. Buttigieg is against tuition-free public college, arguing that the wealthy should have to pay for an education given that they have the resources. The Buttigieg campaign has been plagued by an inability to connect with voters of color, specifically those in the African American community, with hometown scandals such as the increase in black arrests for marijuana possession under his leadership or the fatal shooting of Eric Logan by a South Bend officer. A former Navy Lieutenant in Afghanistan, Buttigieg rolled out "A New Call to Service" plan that would increase service opportunities for young people to work in their communities in a capacity that doesn't require them to be deployed.
Amy Klobuchar
One of two women remaining in the Democratic race, Minnesota senator Amy Klobuchar is a pragmatist moderate. With a history of winning races in a battleground state, Klobuchar makes a case for herself with the idea of "electability," or the likelihood of her ability to win over all voters- moderates, progressives and conservatives alike, especially with her history of winning races in the Midwest. Despite having some name recognition heading into the race, Klobuchar had a hard time breaking into the top tier of candidates. While Klobuchar has experienced a surge in the polls, that hasn't exactly translated to success when it comes to her amount of delegates earned. Klobuchar has come out strong on the issue of climate change, releasing a detailed plan pledging to put the US on a path towards net-zero emissions by 2050. Klobuchar has also supported increased gun control legislation and has long advocated for closing the "boyfriend loophole," which allows domestic abusers to own and buy firearms.
Bernie Sanders
"Democratic-socialist" is a label undeniably associated with Bernie Sanders, and it is a label worn by the Vermont senator proudly. "Not me. Us." has become the rallying cry of his campaign, with unwavering support for progressive policies being the cornerstone of his candidacy. Sanders' time in the political sphere has been marked by his willingness to push against the current Democratic establishment and has run as an independent in previous races for Congress. Perhaps best known for introducing Medicare for All, Sanders has made this a litmus test of sorts for progressive candidates. Sanders is also starkly anti-capitalist and looks to eliminate income inequality through progressively higher corporate tax rates for those companies with the greatest pay discrepancies between CEOs and their median employees. The oldest in the race, Sanders is popular among the younger generation looking for a progressive candidate and has pulled in the most individual and small-dollar donations. However, his platform is often seen as radical for a left-wing politician in the United States, with many fearing that he will be the cause of party infighting, leading to an eventual loss in the General Election.  Skepticism about the economic feasibility of his plans run abound, especially with no concrete figure on the cost of implementing structural reforms. The low viability of Sanders' polarizing reforms passing through the current House and Senate is also a point of contention for voters looking for candidates that have had a history of success when it comes to bipartisanship and compromise.
Elizabeth Warren 
This is the moment Massachusetts Senator Elizabeth Warren has been waiting for. After skipping out on the 2016 race after being expected to run, Warren went to great lengths to assure prospective voters that she was the most qualified woman in the race. Plagued by a recent scandal surrounding her claiming Native American heritage, Warren has tried to repair her relations with the community, releasing a lengthy apology and a plan to benefit the community. Warren put her name on the map by spearheading the Consumer Financial Protection Bureau under the Obama administration and made releasing a myriad of plans on a variety of issues a focal point of her campaign, making "She Has Plan for That"  one of her main slogans. Warren started the race in full support of Medicare For All, but has since walked back her support, now backing a public option as a first step towards universal health coverage. 
About the Writer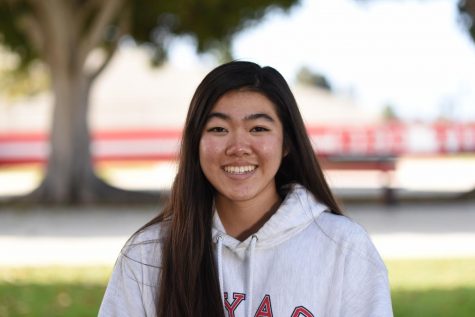 Sarah Liu, News Editor
Sarah Liu, the News section co-editor of The Point, began journalism when she was in 7th grade, starting as a Kid Reporter for Sports Illustrated Kids,...