Volleyball Senior Matthew Warter Commits to NYU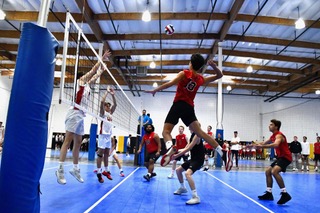 Students may know senior Matthew Warter not only for his involvement in Live From 205, ASB, and various other activities around campus, but also for his athletic accomplishments. 
"I started playing volleyball in 8th grade, when we were playing in PE," Warter said. "After playing I immediately stopped playing soccer and invested all my time in volleyball."
Soon after, Warter joined club volleyball and "began to take volleyball very seriously, playing about 20 hours a week."
"My initial impression of Matthew was that he was a force, on the volleyball court and in life," Boys Volleyball head coach Lacey Minzlaff said.
Warter has been committed to New York University's Tisch School of the Arts for film production as well as the NYU volleyball program since December 2022. 
"When I was officially admitted to NYU Tisch I felt a feeling of relief knowing that all of my hard work had paid off," Warter said.
Coach Lacey has witnessed Warter develop his skills throughout high school and feels as though his accomplishments are very deserved. 
"I was so happy to hear NYU was where he was going to go," Lacey said. "When Matthew and I talked about his choices I told him that NYU seemed like a good idea, because he could pursue both his passions, film and volleyball. He is crazy talented in both areas and it felt like a waste to not do both."
Through enrolling in Tisch's dual degree program, Warter will earn a degree in film, as well as a degree from the NYU Stern School of Business. 
"Being a filmmaker, NYU's Tisch film program offers some of the best connections and learning opportunities in the industry," Warter said.
All the while, Warter is able to continue his passion for film, granting a holistic college experience. 
"On top of all this I would be able to continue playing the sport I love and see a completely foreign environment allowing me to grow in a city with endless opportunities."