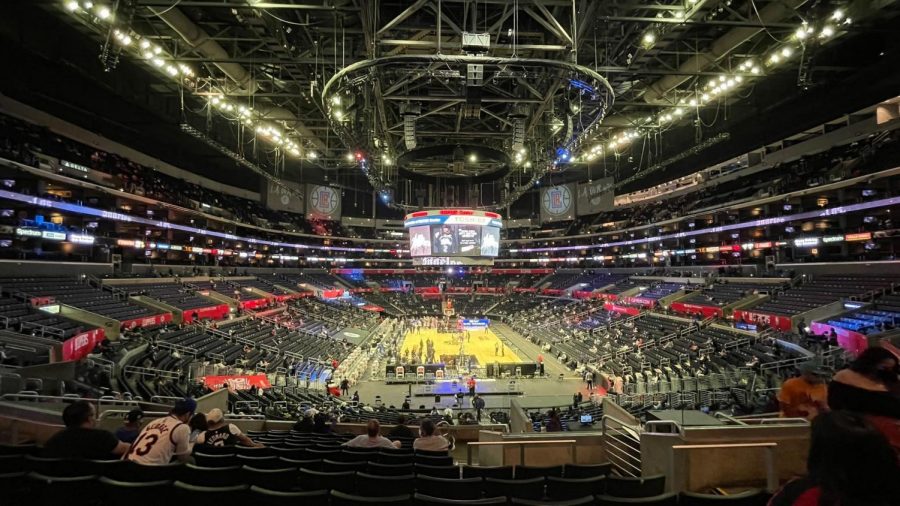 Fans Back in the Stands
L.A. sports fans have finally been allowed back into arenas to watch their favorite teams. 
The announcement of reopenings came in early March when the California Department of Public Health provided updated guidelines allowing outdoor stadiums to reopen at limited capacity once reaching the state's red tier. 
Since the announcement, Los Angeles County has moved down to the yellow tier, clearing the way for 67 percent capacity operations for outdoor stadiums. 
To the excitement of sports fans across Southern California, after more than a year of empty L.A. stadiums, on April 9, the Dodgers welcomed back 15,000 fans at Dodgers Stadium including sophomore Jo O'Connor for their 2021 home opener against the Washington Nationals. 
Of course, the welcoming back of fans came with restrictions to promote social distancing and contactless interactions. 
However, to Dodgers fans, including O'Connor, toughing out the restrictions was well worth it to see their favorite baseball team play again. 
"There were many restrictions like having to wear masks, rows of seats were blocked off and you had to pre-order food instead of going straight up to the stands," O'Connor said. 
"I definitely missed the interactions with the players and other fans. [But despite that,] fans definitely make the games a lot more entertaining, especially in intense situations. It was really nice to be able to come back to the stadium."
Dodgers Stadium wasn't the only L.A. sports arena to reopen. On April 15, Staples Center welcomed back around two thousand Lakers fans for a game against the Boston Celtics. 
Three days later on April 18, in-person Clippers fans watched a win against the Minnesota Timberwolves. 
Staples Center has far stricter rules compared to Dodgers Stadium. Along with masks and social distancing common at many other public venues, proof of full vaccination or a negative COVID test is required before entering the arena. 
After ordering from a mobile app from their seats, fans are required to eat outside the stadium rather than at their seats. Staples Center has even gone so far as to ban fans from entering the stadium with bags and has encouraged less cheering during games. 
But like O'Connor and Dodgers fans, Los Angeles basketball fans are eager to get back to the stands, even if restrictions are in their way. Junior and Clippers fan Carson Kim said he'd go and watch his team despite the new rules.
"I'd love to attend a Clippers game in-person," Kim said. "The atmosphere and intensity when watching a game in-person compared to through a TV screen are totally different and a lot more exciting. I understand and agree with stadiums like Staples Center enforcing strict rules. That way they're able to bring back fans in the safest way possible."  
For many sports fans, the closure of sports venues last year represented the beginning of a dramatic shift into a new pandemic reality. Before any official lockdowns, sports were the first to go.
"When the NBA canceled games last year it was shocking," Kim said. "When it happened, we were all still in school, we weren't wearing masks, and I hadn't heard of a [COVID-19] case in our area. For the NBA to postpone the whole season at a time when I didn't think much of COVID-19 was definitely eye-opening to how serious it really was."
 The reopening of sports stadiums to fans represents a significant shift in the trajectory of the pandemic. 
With Los Angeles' path back to normalcy being paved by our sports teams, icons of the city's culture, Angelenos are finally feeling that better days are on the horizon. 
"I think [being back at Dodgers Stadium] is a good sign that the pandemic will end in the next few months," O'Connor said. "Obviously, [the stadium] is still at [limited] capacity. But, I do think things are heading in a very positive direction."