PV Jerseys Cross the Finish Line Once Again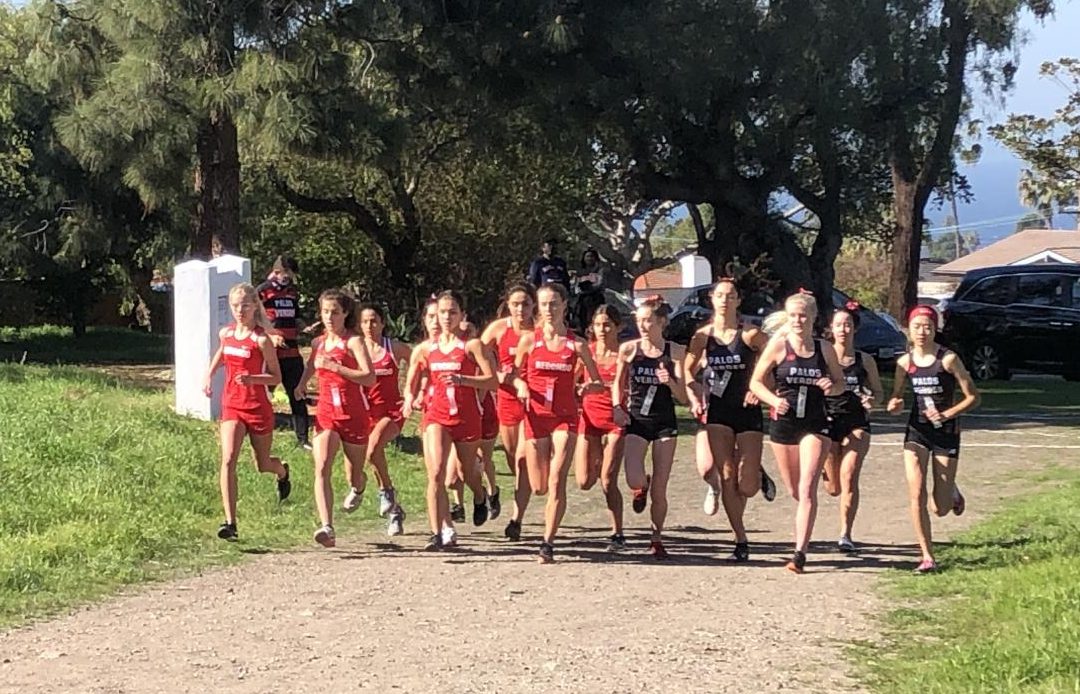 With the PV High stripes in retirement for almost a year now, no team has taken the field in a jersey reading "Palos Verdes" since the beginning of March last year. As of now, since the state has re-entered the purple tier instead of a stay-at-home order, non-contact sports such as tennis, swimming, and cross country have been cleared to compete again. 
"It's definitely been hard to stay motivated through this pandemic but being able to run with my teammates has really helped me to continue practicing hard and stay positive," senior Emma Nelson said. 
LA County was hesitant to allow these sports to compete the first week the state cleared them to do so, but on Tuesday February 15 LA County officially updated their website guidelines regarding high school competition sports. 
LA County has allowed these non-contact fall season sports to compete, signaling further competitions to be allowed when the spring season arrives.
"Based on the fact that we were in a stay-at-home for so long, I never thought we would race XC, but I'm really glad we are going to be able to now," senior Colin Lantz said.
The PVHS cross country team has dominated the Southern Section for the past two years with the girls team winning CIF Finals back to back in 2018 and 2019. With the loss of two star senior runners from last year, the rather young team is striving to make the most of the season they will be given, even though they are going into it lacking the steady training they're used to.
"Having so much uncertainty regarding the season and not being able to practice with the entire team made it hard to train to my full potential so I feel like I am less prepared than previous years," Nelson said. 
Once the team lines up and finishes their first race in a jersey bearing the words Palos Verdes, this will be a monumental moment for all sports teams in the South Bay and PVHS. 
On February 20, the Palos Verdes jerseys returned to competition, with the first organized sports meet since the start of the pandemic taking place without a hitch. Palos Verdes faced off with Redondo ending in a boys team sweep with a perfect score of 15 and a 1-5 finish.
"My first race was not my best. I had fun and the boys got the job done, so I can't complain. As a team we want to go undefeated this year, and we will. Every single guy knows what we have to do, and we are all mentally tough enough to get it done no matter the circumstances. As an individual I need to be better prepared to race, which is expected as racing becomes normal again," Lantz said.
But with this opportunity comes responsibility for the team to uphold expected safety precautions set in place to allow competition to continue running smoothly.
"My number one priority is definitely to remain safe during this whole process and follow all guidelines but I definitely want to represent the school seeing as we are the first sport in the area to begin racing again," Nelson said. 
The cross country team and other sports that have started competing in the beginning parts of this process have the responsibility to carry out competition safely and set an example for other sports who may return to competition later this year. 
It is crucial that the team hold themselves and their peers accountable during this small season in hope to prove to the county and state that competition can be done safely and efficiently. 
With the cross country team leading the way for all other PVHS sports, the short season will open the gates for the excitement of sports competitions again and allow seniors a last chance to compete with their teams.
"In the next few weeks we are looking to pick up the speed during practices and really focus on our training in order to give us the best chance at our last few races," Nelson said.