PV Choreo: Timing is Everything
Running a soccer play with teammates is an impossible feat to do over Zoom, and the same can be said for the PVHS Choreo team in planning formations and positions for dance routines.
It is great that sports and cheer practices have been on campus for the past few weeks, but the same can unfortunately not be said for other activities. 
It has been a challenge for Choreo to practice over Zoom, as many students have faced the many inconveniences seen also in their general academic classes, an example being slow Wi-Fi that causes sound delays and frozen screens. 
Recently, the LA County Public Health announced the county COVID-19 infection numbers had lowered into an acceptable rate, so the Choreo team finally received the clearance to return on campus. This news came just in time for the team to begin practicing for their Spring Concert.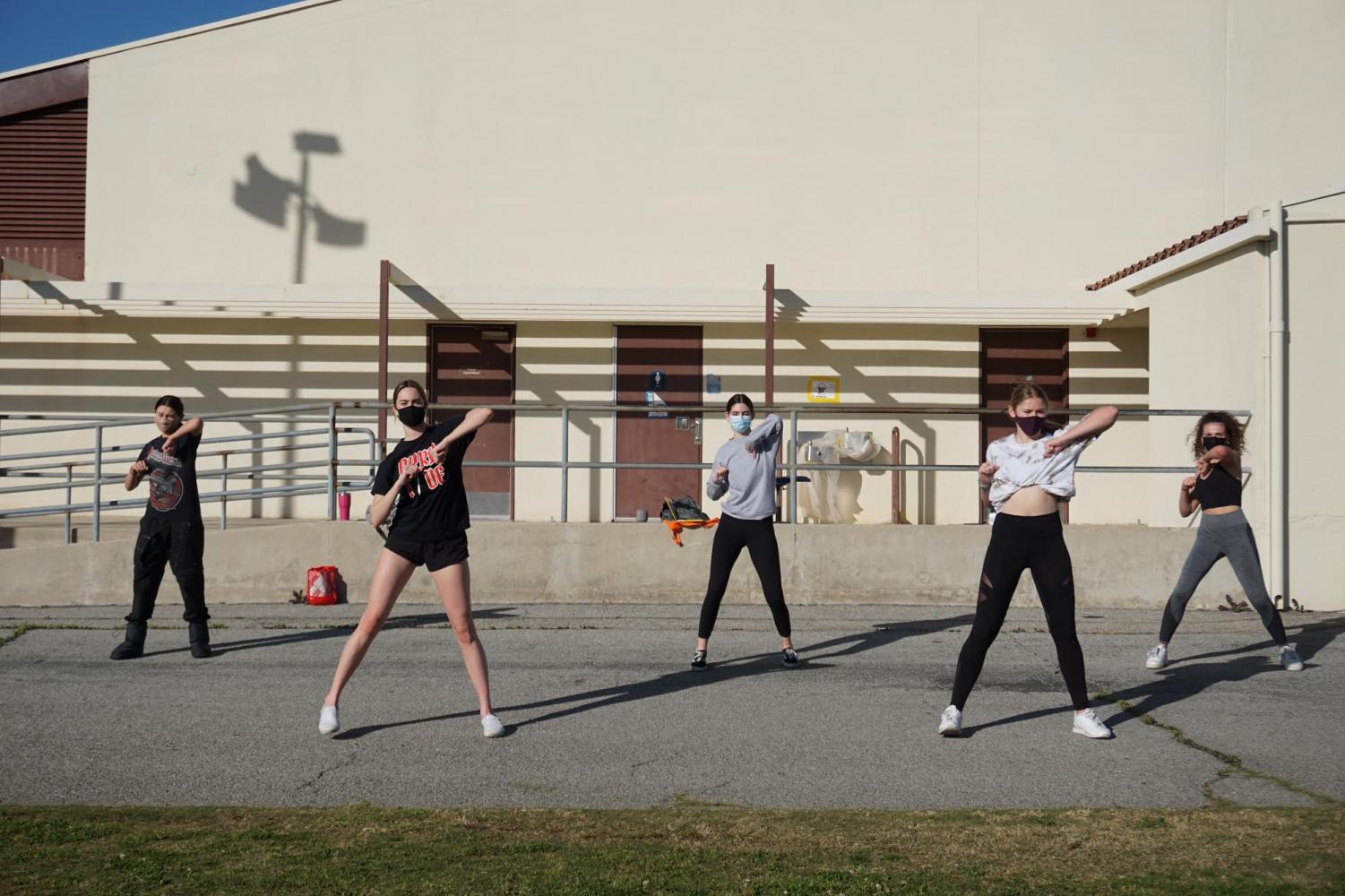 Every year, the PVHS Choreo and Intermediate Dance teams perform in the Choreo Spring Concert. Last year it was canceled due to the pandemic, but this year the team hopes to perform and record the show to share with their Sea King friends and family members. 
"It'll be my first performance [with the Choreo team] and I'm really excited," sophomore Brynn Ottolia said."It would be different having a live audience."
Although performing without an audience does lack the excitement and immediate reaction felt on a live stage, filming it can add to it artistically. 
"It will allow us to do what we cannot do…on a stage," Choreo team member Jennifer Kamholz said. "It'll allow us to put green screens behind us, or change shots, so we can make it more edited." 
There are hopes that this performance will help safely increase a sense of community at PVHS. 
Safety itself is key, so new standards must be put in place for the dancers to practice in person.
"The dancers [will] wear masks the entire practice and will not be performing choreography in which they touch each other," Choreo teacher Kathleen Mastan said. 
With the addition of the new safety guidelines, dance routines might have to be staged differently to accommodate everyone's safety.
"A lot of the pieces were choreographed during the pandemic," Kamholz said. "It's going to be very easy to take our choreography and have us spaced apart…six feet."
 As Choreo works through the new safety protocols for dance practice, hopefully they will see a way to integrate Intermediate Dance into the program as well.
 "I am hoping to have Intermediate return to campus in the next few weeks," Mastan said. "We can clean the dances they will perform before we film the pieces." Performing together in the Choreo Spring Concert will be a highlight for the dancers to finish out their year.