CIF Spring Sports Conclude
Ivan Barron, Writer
May 2, 2019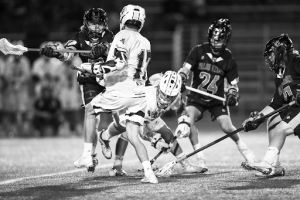 PV High has always dominated in athletics, and with outstanding performances from all teams in the fall, the Spring season has brought further success to PV sports.
Both Boys' and Girls' Varsity Lacrosse have had amazing seasons and are son track to become champions in the May CIF playoffs.
With Girls' Lacrosse having earned a spot as the fourth best team in the nation, and Boys' Lacrosse placing ninth in the nation, both teams reign supreme in Southern California.
This season, Boys' Varsity Lacrosse has kept an impressive overall recored of 17-2, recently beating their longtime rivals of Loyola High School, and remaining undefeated in the Bay League.
"We are doing great. We had a tough schedule this season so we are just working hard in practice to get the ring," said junior Ezra Galvin.
With a solid 11-3 overall record, Girls' Varsity Lacrosse has also had major success this season.
Alongside Lacrosse, baseball is one of PV's most popular sports and the team is working hard to improve their success in the league.
"So this season, our team has had a bunch of ups and downs in how we are playing, but we've grown closer as a team and we are starting to work well together, so it's only up from here," said junior Daniel Johnson.
With a decent league record of 6-4 and an overall record of 17-12, PV baseball has earned many wins to counter the losses which will hopefully decrease as the season progresses.
Boys' Volleyball is another major spring sport and has seen some success in fierce levels of competition.
"We are doing well, as we are 2-4, but we are playing in the toughest division in the country with the top two teams in the nation," said junior Grady Hoffman.
With the Boys' Volleyball team battling it out for victory in the highest level of competition, they have brought pride to the school in earning their spot in one of the most difficult divisions and still managing to win games.
PVHS boys have also dominated not eh golf course, and with an impressive league record of 8-1, the team has hopes to win CIF for another consecutive year.
To round off an incredible season of spring sports, our Boys' and Girls' Water Polo teams have had great seasons that can potentially culminate in CIF titles once again. Hopefully, Palos Verdes High will continue to dominate in playoffs, as always.