The Madness Returns
Ethan King, Writer
April 7, 2019
Hang on for a minute...we're trying to find some more stories you might like.
Starting March 19th, the NCAA Men's Basketball tournament will begin.
This yearly single elimination tournament of 68 teams is filled with crazy moments that cause the month to be referred to as "March Madness".
This year features many great teams such as Duke, Gonzaga, Virginia, and North Carolina.
But like every year, there are many underdogs that can make deep runs in the tournament.
A few teams that have caused upsets are the University of California Irvine, Oregon, and Murray State beating higher seeded teams.
However, they lost in the second round of the tournament.
Top prospects such as Zion Williamson, Ja Morant, and RJ Barrett will showcase their talent in this year's tournament.
Williamson is especially fun to watch because of his insane athletic ability.
His unique basketball playing style and obvious natural talents have made him a fan favorite and a household name around the country.
His highly ranked teammates such as RJ Barrett and Cam Reddish also set the bar high for Duke's success. All of these players will most likely go very high in next years NBA draft.
Although Duke is the popular favorite to win, lower seeded teams such as UCF have posed a threat to them throughout the tournament.
Factors such as officiating, team chemistry, and momentum can all come into play during the tournament.
Since games are single elimination, truly anything can happen. In past years, the tournament has had many awesome moments.
One such moment was in the 2016 championship.
The game was tied 74-74 with four seconds left. Villanova took the ball up the court and Kris Jenkins made three at the buzzer, to beat North Carolina 77-74.
Many PV Students have favorite tournament moments as well.
Sophomore Riley Skinner said, "I love when an underdog beats a big team, like when Virginia (1 seed) got beat by UMBC (16 seed) last year".
Along with just watching the tournament, many students at PV High fill out brackets.
This is done by going through every game and picking the team you think will win.
This you can either do online or with your friends/family.
"I do a bracket with my family mostly to compete against my dad. The online is too hard to win," said Skinner.
Many students at PVHS adopt different strategies to create the perfect bracket.  
"I pick my brackets based on which players I enjoy watching and whatever ones my friends like," said sophomore Aidan Eliasson.
Another common trend in this year's tournament was the success of high seeded teams. Several upsets occurred earlier in the tournament.
However, the majority of teams expected to progress throughout the rounds have swiftly made it to the Sweet 16.
Often, when creating a bracket, favorite teams get in the way of strategy.
Before picking any other games, Skinner said, "I start with Kentucky winning it all."
March Madness is appreciated by many basketball fans because of its excitement and the possibility that any team can lose at any time.  
This year is definitely going to be fun with such great basketball teams and unbelievable players.
With a college class filled with so many generational talents, this year's tournament will be a fan favorite for years.
About the Writer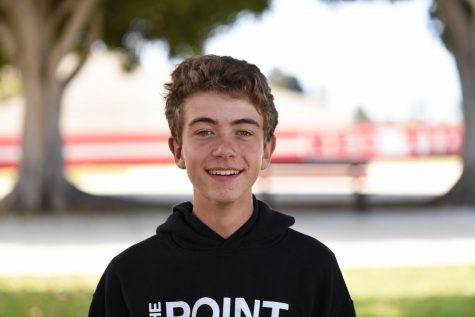 Ethan King, Reporter
Ethan King is a junior at Palos Verdes High School. This is his second year as a writer for The Point. Not only does Ethan invest his time as a journalist,...