Palos Verdes Spring Sports in Bloom
Nikki Ringer, Writer
April 7, 2019
Varsity boys' baseball was training hard in the months leading up to spring to prepare for their season. This older team has a majority of seniors returning from last year. The 2019 season came around pretty quickly, starting in early February.
Practicing everyday has given them the chance to live up to their potential. As of now they are 6-7, with a highlight of beating Redondo on March 12th in a four-and-a-half hour game that seniors definitely won't forget.  
"Since a lot of returning seniors are starters, I think we're all really excited for our senior year," said senior Erik Anderson.
Boys' golf has high expectations this year after winning Bay League and CIF last season.
"Coach Ray has been preparing us, getting ready for season, and being consistent," said junior Bodie Hoover.
They have a good mix of players from all the grades, giving them a steady and diverse team.
Though golf is an individual sport, the top five scores are put together in tournaments, so trust is definitely something that is valued.
Boys' Lacrosse is in full force, holding the first place ranking.
"Focusing on communication, stick work, and positioning are things we have been working on," said junior Justin Booth.
During practice, splitting up into offense and defense and running plays is something that helps prepare for games. They have gone very far in the past years and made it to the finals, but it has always been a tough game. Currently, they are 9-0, kings of the hill. Boys lacrosse is ranked 2nd in state and 9th in the nation.
With a new season, girls' lacrosse now has new coaches.
"Everyone was kind of shaken up when we got a new coach, so we've been working on staying in the mentality of being able to come together for the games," said senior captain Kelly Hoyt.
The team has a strong bond that will keep them going this season. They hold the first place state ranking and are 4th in the nation.
They are 5-0 and going strong. Despite facing a change in coaches, beating Redondo twice so far has been the biggest highlight of the season.
Throughout the season softball has been mentoring the underclassmen, preparing them for next year.
"With a lot of new freshman, the upperclassmen take it upon themselves to show them the way warms-ups go, how practice is run, and getting in the right mindset for season," said junior Rachel Allen.
Practice consists of working on defensive plays, first and third plays, and game-like situations. Last year, they were co-Bay League champs with Mira Costa. Currently they are 9-7 with their next game against Leuzinger today, March 28.
"This year our team has grown up a lot since last year, so winning bay league is something we can do," said junior Niki Mabry.
Last year, the swim relay team went to CIF, an important event for them. This year, they have been working on getting some individuals to CIF.
"We all were very excited for our relay team to go to CIF and want to work hard this year to do that again," said senior Kelsie Grant.
The team practices yoga to help stretch their bodies and become mindful when swimming.
Whether it's inside or outside the pool, this team has been working on bonding together.
"As much as swim is an individual sport, it's really important for us to all work together," said senior Maddy Bohannon.
Boys' tennis has been taking care of their bodies on and off the court.
"Keeping healthy and not getting injured during season is something that our coach has definitely stressed on," said junior Sean Holt.
Track has also been starting off fast with their season.
"We've been focusing on doing sprints that are 200s and 400s, then running uphill to increase our speed," said freshman Arianna Hutcheson.
Track Coach Shapiro and Coach Kevin are pushing runners by doing speed workouts so they are ready for meets.
In past years, they have focused on not burning out by Bay League and CIF meets. They have had 40/50 mile weeks in order to keep them consistent for season.
"Everyone's really motivated for season and no one's overworking themselves to the point that they will burn out," said junior Sarah Corsaro.
Volleyball is currently 9-5, playing rival, Peninsula Panthers, on March 28.
"Passing, serving and being consistent has been our top priority for season," said junior Rex Ringer.
Boy's Volleyball is ready to make it to the top this season. They may have some tough games, but the camaraderie amongst them is like no other.
"Every year we have been the underdogs of the South Bay, but this year we definitely have the chemistry to take it all the way," said captain Max Kelly.
Clippers Top Lakers Once Again
By Curtis Liu
With the Lakers out of the playoff picture, the Clippers seem to be LA's only hope in bringing a title to the city.
However, the Golden State Warriors seem to be in full control with a loaded roster that has no signs of slowing down.
The 2019 Larry O'Brien Trophy looks like it would be once held in Oakland, as the superteam of Stephen Curry, Klay Thompson, Kevin Durant, Draymond Green, and DeMarcus Cousins rarely displays any weaknesses (despite losing to the worst team in the league – the Phoenix Suns earlier this month and dropping four games in a row).
The Lakers were once 4th in the Western Conference and held a 20-14 record. They had multiple opportunities to turn their season around after their record was hovering around .500, but the injuries proved to be too much for LeBron James and the promising young core.
James was the first of several to get injured, followed by Lonzo Ball. Ball's defensive presence and offensive skill set were truly missed during their large stretch of games around the All-Star break.
James missed the playoffs for the first time in 13 years, which is a huge disappointment for Lakers fans.
Sophomore Christian Hokama claims that he "will always be supporting the Los Angeles Lakers."
Optimistic Lakers fans think that Lakers can have a big run at the title, albeit the actual odds of them even making the playoffs have ended.
D'Angelo Russell of the Brooklyn Nets led his team to a victory over the Lakers on March 22, eliminating Lakers' chances at the playoffs. Even more disaster came when it was revealed that rising Lakers star Brandon Ingram had a blood clot in his arm, a similar injury to the one that ended Chris Bosh's career back in 2016.
Another probable cause of the downfall of the season is the trade rumors, when it was known that the Lakers were willing to trade almost half their roster for All-Star Anthony Davis.
The Clippers, however, are currently holding a powerful lead in the playoff race. They made a couple of trades before the trade deadline, acquiring Ivica Zubač from the LA Lakers and a few draft picks from the Sixers in exchange for Tobias Harris. Lou Williams, the sixth man of the Clippers, is on a scoring tear, putting up monstrous numbers coming off the bench. He became the all-time leading scorer in a single game coming off the bench, scoring 34 points in a huge win over the Celtics.
Even after trading their key player Tobias Harris, the Clippers manage to hold their record above .500, and once again top the Lakers as the best team in Los Angeles.
They can contribute their success to the superb coaching of Doc Rivers and moves arranged by the organization and executive board member Jerry West.
The NBA legend has had a history of forming formidable teams such as the Kobe and Shaq era Lakers and the infamous Golden State Warriors led by Stephen Curry.
The Clippers will make the playoffs, but the Lakers won't.
What began as a season of high expectations, ended in a crumbling mess, but there is always hope for next year.
About the Writer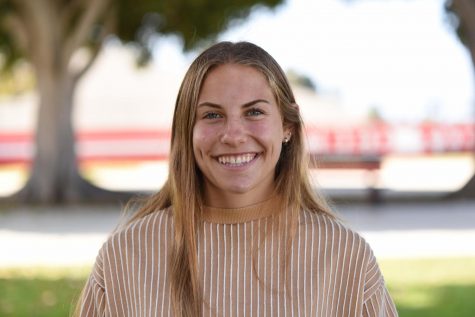 Nikki Ringer, Social Media Editor
Nikki is a senior this year and this is her second year on The Point. She plays on the soccer and lacrosse team. Nikki enjoys listening to country music...