CIF Playoffs are Underway
Emily Typrowicz, Assistant Sports Editor
February 21, 2019
Winter sports at Palos Verdes are coming to an end as CIF playoffs are starting up. This past season all sports had their ups and downs but all five teams made it to the first round of CIF playoffs.
Girls' Basketball had a rough start to their season but made it to the first round of CIF. The team did not know until the Sunday before the first game of playoffs if they would qualify.
Senior, Djae Berberabe stated, "Practices are very intense because our coach is yelling non-stop and we run a lot so it is completely fatigued."
With the intense practices, the team should be good going into playoffs. They ended up qualifying and went to the first round of CIF to play Lancaster to move on to the second round against Saugus. The team won the first and second round but unfortunately lost to Santa Margarita ending their season.
Boys' Basketball had a good season beating Peninsula in their second faceoff by one point. Going into CIF the team has high expectations moving into playoffs.
Senior captain Greg Smart had an incredible season, and said, "We think we have a good chance to go all the way to Finals and hopefully get a ring."
The team has high expectations and believes they will be making it to the finals. The team is focused and have a good team chemistry this year.
They played Westminster in the first round and moved onto the second round beating Eisenhower. They went to play against Covina and won moving into the Semi-finals. They lost their semi-final game against Capo Valley Christian.
Girls' Water Polo had a difficult season going against harder teams than the past.
Practices are intense, and, even when working hard every day and over breaks, they had a rough season. The team ended the regular season with a record of 14 wins and 14 losses.
Going into playoffs the team is motivated to make it as far as they can. The team played in their first game against Crescenta Valley, going to the second round against Riverside Poly. They lost the second game, ending their great season.
Girls' Soccer went to the first round of CIF playoffs. They unfortunately lost to Long Beach Poly 3-2 with a comeback at the second half that was not enough to secure the win.
Even though the team ended their season they had achieved many great accomplishments.
One of those accomplishments is "the relationships between all of the players, we all got along this year and it was just a super fun team because we were all really close," stated senior Captain Morgan Izuno.
Not only did the team have good chemistry they beat Peninsula this year which they did not do last year so it was a huge accomplishment the team had.
Boys' Soccer had a good season. They made it into the first round of playoffs with a win against Santa Barbara. They had a home game against Edison in the second round and unfortunately lost to the team.
Winter sports all had a great season. Each team worked well together and represented the school as a good name. They proved their ability to be determined through rough games and had strong playoff games this season.
About the Writer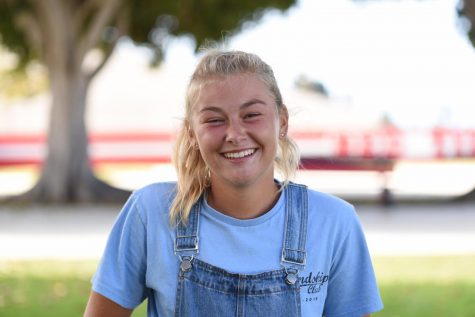 Emily Typrowicz, Reporter
Emily Typrowicz has been a staff member of The Point ever since she was a freshman! Her bubbly personality keeps things fun in the newsroom. You can find...