Playing Off the Court
After three years of playing dedicated volleyball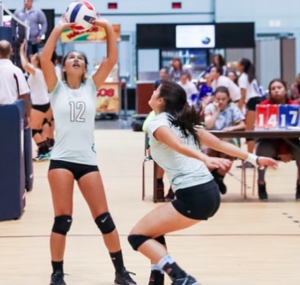 , senior Alaina Bucy integrated the sport into her life through other means. This year, Bucy has become a coach and manager for different teams on and off campus.
Bucy coaches a team of nine to twelve-year-olds at Bogdonavich Recreation Center in San Pedro for about three hours total every week.
Bucy said her favorite part about coaching is "definitely seeing them grow with not only their volleyball skills but their confidence and teamwork."
Bucy also helps to coach Boys' Beach Volleyball.
She said, "I really like watching all of the gameplay. I get really into it, and it's super fun to watch the team play."
Coaching is not the only way Bucy incorporated volleyball into her life, but she also managed Boys' indoor volleyball last school year and just finished managing the Girls' indoor volleyball season.
As a manager for these teams, her biggest responsibility was taking statistics at the game. Each game, she sits on the sidelines and tracks play in the games in order to use this data as a way to help the team improve.
Bucy said, "I like taking stats because I'm able to go to all the games and watch some really good volleyball."
But, before her career started as a manager and coach, Bucy originally desired to keep playing volleyball throughout high school. But unlike some of her teammates, she now wants to continue taking statistics for college teams.
While she has found a new love for coaching and managing, Bucy does not deny that she misses playing. "Sometimes I really miss it, but other times I am really thankful that I am not playing. Volleyball was really time-consuming, and it made it difficult to study and finish homework sometimes, but it was so fun."
Evidently, volleyball holds lots of significance in Bucy's life, and she's very grateful for it too.
"Volleyball has made such an impact on my life and I don't think my life would be the same if I had never played volleyball."