Sea King Football featured on KTLA 5
Sea Kings rallied early morning for KTLA 5 news.
This morning, the famous "I believe that we will win" chant was heard loud and clear as Sea King football was featured in KTLA's "Friday Night Lights in the Morning" segment with Gayle Anderson. The segment focused on the football team as they prepare for tonight's game against Cathedral High School.
"Every Friday [KTLA] goes to a different school and highlights the school and the athletic program, especially the football team," said Principal Dr. Charles Park.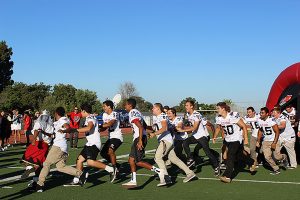 The football team, cheer and song teams, and band all made appearances, but the turnout by the student body provided the energy necessary for a great show.
"The school spirit was so incredible that KTLA actually came back for a second shot, and according to KTLA, the show has never done that before…that says a lot about our school and our school pride, it's a good feeling," said Park.
The energy was imminent and could be seen through the large number of students who joined Red Tide bright and early this morning. Teachers and students alike were energized by the event.
"It was really exciting out there. This is going to make the school and our football team look great. I hope we win the game tonight," said sophomore Jayne Campbell.
The feature went so smoothly that credit must be given to the groups of people who rallied to make this event happen. As early as four o'clock in the morning, Sea Kings could be seen hard at work.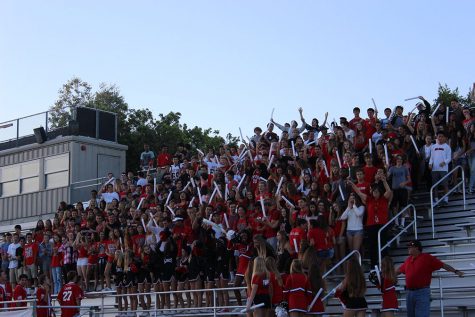 "[KTLA] came looking for us, and…in about three days ASB, Ms. Maxfield, Ms. Ramirez, BTC, and all the spirit programs were able to come together and make it happen," said Park.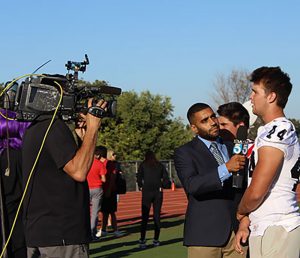 Hopefully the enthusiasm from this morning aids the football team tonight in their pursuit of a win against Cathedral High.
"I hope that this morning encourages more students to co
me and give the football team support tonight at the game," said junior Hallie Kostrencich.
Get ready for more spirit, more football, and more Red Tide tonight at 7:00 at Cathedral High as the Palos Verdes Sea Kings take on the Cathedral Phantoms. 
If you want to check out what was aired on KTLA5 this morning, click here.