"This is Written Into America's DNA"
April 9, 2021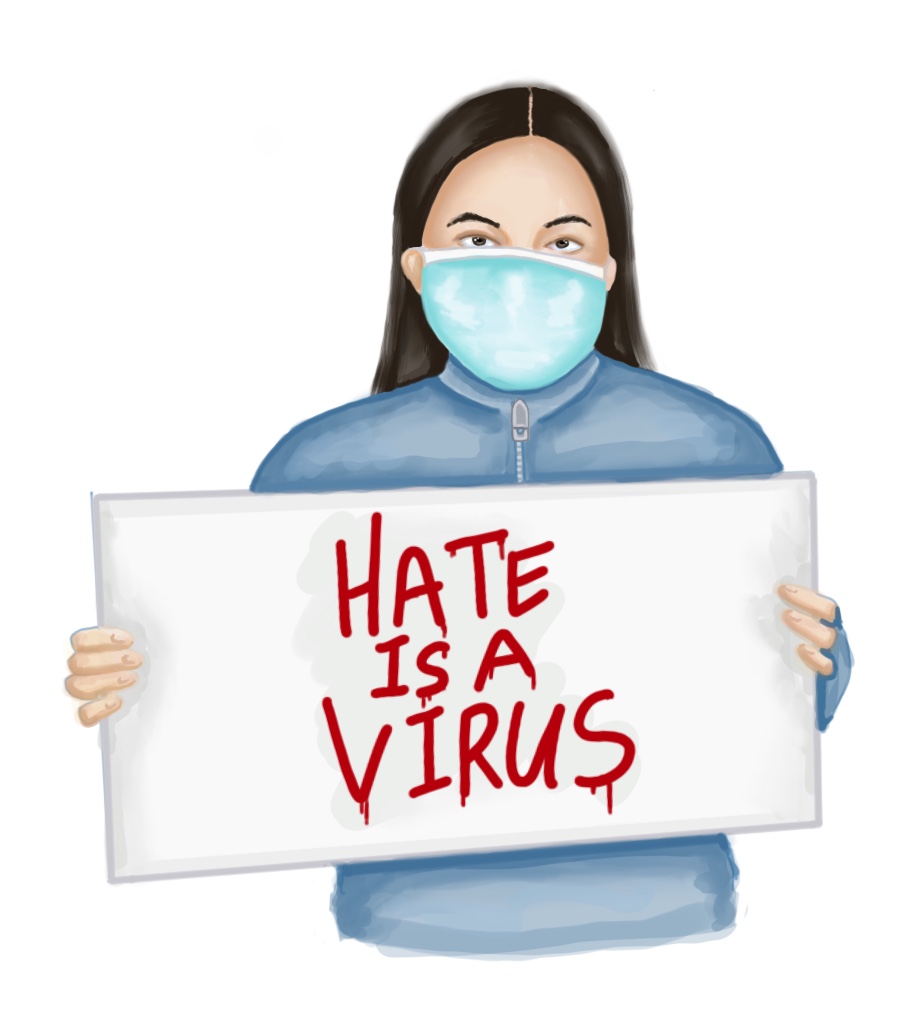 In the wake of the Atlanta spa shootings, pleas to #StopAAPIHate have been amplified by the AAPI community. The Point breaks down the long history of anti-Asian racism that has led us to this moment.
The Solution to Dehumanizing Language? Not Staying Silent.
By Sarah Liu editor-in-chief
Since the surge in Asian hate incidents, the Chinese phrase "eating bitterness," comes to mind. Within the culture, Asians have long been taught by our elders to take the hits as they come, eating bitterness without complaining. There has never been so urgent a time as now to fight against this idea.
At the start of the Coronavirus pandemic, we saw the dehumanization of Asian Americans through rhetoric spewed by political reactionaries and on social media. 
"It's got all different names," former president Donald Trump said. "Wuhan was catching on, Coronavirus, kung flu… Some people call it the Chinese flu, the China flu, they call it the China." A baseless Fox News article went viral claiming that COVID-19 was created in a Chinese laboratory. According to Facebook's analytics, the story was shared over 1 million times. 
Those were all words loaded with the intent to scapegoat and "other" the Chinese. Tragically, it has hurt other Asian ethnic populations who are wrongfully assumed to be Chinese.
But, this dehumanizing rhetoric is written into America's DNA. Anti-Asian sentiment was in our bones when President Ulysses S. Grant signed the Page Act of 1875, believing that "very few" Asian women could possibly be brought to our shores to pursue any honorable occupations other than prostitution. And dehumanization still plagues us today, when Robert Aaron Long tells investigators that he wanted to "eliminate his temptation" by going on a killing spree at Asian-owned massage parlors, at the cost of eight peoples' lives, six of them being Asian women.
Words envelop us like the acridity we've had to choke down for centuries. It coats our tongues and colors our experiences. But, Asian Americans shouldn't have to endure this unwanted bitterness any longer.
Stopping AAPI Hate Means Protecting Our Women.
By Aurora Khatibi Garrity news editor
The Atlanta Spa shooting on March 16, 2021, resulted in eight fatally shot, six of those being Asian women. Law enforcement reported this crime as "not racially motivated," instead caused by "sexual addiction." However, according to Stop Asian Americans and Pacific Islanders (AAPI) Hate, of the approximate 3,800 Asian American hate incidents reported over the past pandemic year, women make up 68% of these reports, men 29%. Asian women report hate incidents 2.3 times more than men, which suggests that Asian American women are more likely than men to experience racial and sexually motivated hate incidents. 
The Atlanta Spa shooting is an important example of direct violence toward a group for race and gender, and is just one of many forms of hate directed at the Asian American community. The stereotype that Asian American women are "meek and subservient," according to NBC News, creates the perception that "Asians and women and Asian women are easier targets." The marginalization of women of color stems from factors including women's gender roles, stereotypes of fragility and weakness, and white, among other races, male superiority. The intersection of race and gender cannot go overlooked as reports of racial and sexual hate crimes continue to increase against the young and elderly Asian American men and women.
The History of Hyper-Fetishizing Asian Women
By Kaylie Harley opinion editor
Since their first immigration to America in the 1850s, women of Asian descent have been horribly discriminated against through hypersexualization. "The US…passed the Page Act of 1875, which ultimately banned the importation of [all] Asian women, who were feared to be engaging in prostitution in the country," Vox reporter Rachel Ramirez said. This Act was one of the first methods America used to perpetuate the idea of "White Sexual Imperialism," or Asian women only existing for sexual relationships with their white "superiors", but the idea was fully popularized during both the Philippine-American and Vietnam Wars. 
Although this way of thinking should've lost traction after the wars ended, the "emergence of films and artwork after US-led wars in Asian countries is when the trope of the hypersexual but docile Asian woman really took hold," film scholar Celine Shimizu said. This new racial fetish, commonly known as "Yellow Fever," became normalized through films like Full Metal Jacket and plays such as Miss Saigon, and have painted AAPI women in a demeaning light ever since. The biggest stereotype has been titled "Dragon Lady and Lotus Flower," where the lotus flower represents obedience and domestication, while the dragon lady signifies a seductive and non-normative deviant.
This need for white male domination over minorities still affects AAPI people today. "Nearly 3,800 hate incidents were reported…between March 19 last year and February 28 this year. Women were targeted in a disproportionate share of those incidents, making up 68% of the reports while men made up 29%," CNN reporter Harmeet Kaur said. Until American society breaks away from the normalcy of hyper-fetishization, AAPI women will continue to be treated as objects, and not people who deserve respect and recognition.
Is It Appreciation or Appropriation?
By Alycen Kim centerspread editor
When it comes to another culture's traditions and culture, there is a fine line between appreciation and appropriation. As various Asian companies have entered mass media over the years, Western businesses have taken advantage of the unique elements of Asian culture, creating their own "spinoffs".
Food and drink such as Taiwanese boba and traditional Chinese cuisine has been morphed into Caucasian-style takeout, with white business owners profiting from a culture that isn't theirs. Some clothing brands have created variations of a traditional Chinese dress called the cheongsam, turning it into provocative tops or skin- baring dresses. White individuals can be seen wearing sexualized versions of the cheongsam or even Japanese kimonos on Halloween or as the latest fashion trend. Reducing these historically important and traditional garments into costumes and trends is not only flawed, but it is extremely disrespectful. 
It is important to understand the difference between cultural appreciation and cultural appropriation. Cultural appropriation is picking out the "attractive" elements of a culture to sexualize, use, or profit off of. Studying an Asian language, visiting Asian countries, and listening to Asian stories are some of the many ways people can properly respect and appreciate Asian culture.