Getting Personal With Paysinger
Meet Palos Verdes High School's New Interim Principal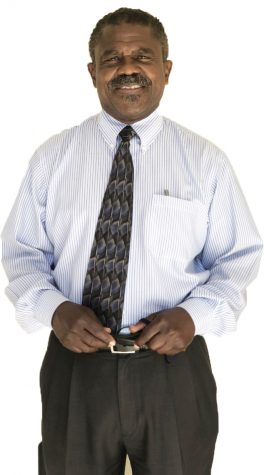 After the resignation of former principal Dr. Allan Tyner in July, the Palos Verdes Peninsula Unified School District (PVPUSD) was left searching for a last-minute replacement. Enter Carter Paysinger, an interim solution to filling the vacancy. A veteran educator, Paysinger coached and taught at Beverly Hills High School for many decades before becoming principal of the school in 2010. There, he led the school he once attended and published a best-selling novel, Where a Man Stands. After facing alledged racial prejudice from the Beverly Hills school board, Paysinger sued and won in a discrimination lawsuit and retired from his position as principal in 2015. This year, Paysinger was asked by PVPUSD to come out of retirement to lead Palos Verdes High School until a permanent principal is found. I sat down with him to ask a few questions about his life.
Where were you born? Describe the household you grew up in.
I was born in Muskegon, Michigan and raised in South Los Angeles. The house I group up in was a regular house on the block — three bedrooms, a couple bathrooms, a backyard. I grew up with my three brothers and my mom and dad.
Describe a typical day in your childhood.
On non-school days I played all kinds of sports and games from kickball, softball, baseball, football and basketball. We just entertained ourselves, my brothers and I. On school days we were going to school and doing what every school-aged child does.
I looked into your book, Where a Man Stands. You wrote that your mother moved you and your siblings to schools in West L.A., eventually allowing you to attend Beverly Hills High School. Describe that experience for me, especially as an African American from a different part of the city. 
It was different. At the time I didn't realize how different it was just having to fit in with my friends in my neighborhood and my friends at school. They were separated. It was just different. At the time there were a number of Blacks at Beverly, probably a lot more than there are now. My friends were not segregated. They were segregated in terms of what activities you were involved in. All the athletes hung out together. It gave me an opportunity to learn a little bit more about other cultures.
What made you want to return to Beverly as a coach and then later as a teacher and principal?
I was watching my younger brother play baseball and football. I'd go to his games and the coaches there actually recruited me to come back there. I was in college and getting my real estate license and was hoping to pursue a career in real estate. I was strongly encouraged by the coaches like Bill Standsbury who convinced me to come back and coach. The coaches believed that if I was going to be there watching my brother play, then I might as well coach and just have that as an experience while I was finishing up college. And that's how it started. Once I got in and I started coaching, I started teaching and everything kind of fell in place.
What was your biggest success at Beverly?
In my first three years as principal, we had the highest test scores in the school's history. My biggest success as a coach, I would probably say, would be the number of students that went through our program that became successful in a variety of different careers.
That just fortified the belief that if you do it right and focus on the right things, the wins will come. And we focused on life skills and developing people and we won a lot of games and had a lot of really successful athletes.
You had a falling out with the school board at Beverly Hills High School. You alleged that a school board member engaged in a smear campaign against you, leaking accusations to the L.A. Times. You later won a discrimination lawsuit against the board and were cleared of any wrongdoing. Describe that experience from your perspective. 
That was the toughest experience of my life because for the first time I felt like I was really attacked for being African American. That's naturally the bottom line to it. It's a problem that many people go through and it's unfortunate, but it happens.
You chose to come out of retirement to be interim principal here at Palos Verdes High School. PVHS is pretty comparable in terms of socioeconomic and racial demographics. Why choose PV High?
I was actually asked by Dr. Cherniss if I could do a limited term here. Obviously the previous principal left pretty close to the start of the school year and it's really hard to find administrators, and teachers for that matter, at that time of the year. Usually those people are available in the spring for the next school year.
I knew enough about Palos Verdes and the school district in general to know that not only is it similar to Beverly Hills, but they are very successful in a lot of aspects so it was an easy decision for me to accept the job.
I saw in an interview that there was a plan for a Where a Man Stands movie and you wanted Denzel Washington to portray you. How are plans for that going?
Well, we haven't moved forward on the movie. When you give up the rights to your story, then they can take it and do whatever they want.
We've had many conversations with the production companies and producers.
The T.V. show All American is based on the life story of your nephew, Spencer Paysinger. The show is incredibly popular at our school. Any chance he can come speak to us?
We'll see. I'll leave it at that.