California Recall Election Results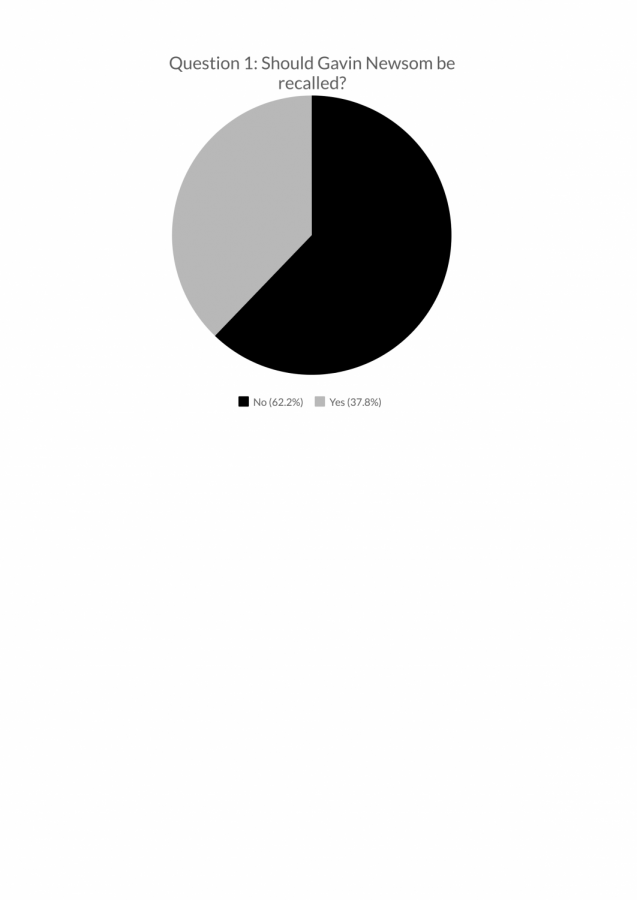 The California Recall Election was an attempt to remove Governor Gavin Newsom from office. It took place on Sept. 14. There were two questions on the ballot. The first one asked if Newsom should or should not be removed. The second asked who should replace him if he were removed.
The recal effort ultimately failed with over 60% of voters voting to keep Newsom in office.
To qualify a recall of the Governor for the ballot, according to the California Constitution, proponents need a minimum of 1,495,709 valid petition signatures. This is equal to 12 percent of the votes cast for the office of Newsom in 2018.
The front runner in the election against Newsom was Larry Elder, a radio talk show host who grew up in South Central LA and went to Brown University. Elder ran as a Republican and supports many libertarian policies. Other Canidates included Caitlyn Jenner, transgender rights activist and former Olympian; Kevin Faulconer, former San Diego mayor; and John Cox, a businessman and political activist who supported lowering income taxes.
"I did not like the way that Newsom handled the pandemic and his hypocritical handling of the lockdowns," senior and first-time voter Mikey Guirgis said.
The recall effort gained major steam during the pandemic after recall supporters viewed some of Newsom's actions as hypocritical. However, this is not what started the movement.
The recall was introduced February 2020 before the COVID-19 pandemic became an issue. The original reasons for the recall included high taxes, the homelessness problem, immigration laws, abolishing the death penalty and rationing water use. Some viewed Newsom's handling of the pandemic as more of a reason to recall him and got many people who originally did not care about the election interested because of how their life had been affected by the pandemic.
"While I was at home doing online school and having all of my activities cancelled, Newsom's children were going to school and he was going to large events," Guirgis said. "I voted for Elder because he would be transparent and not hypocritical towards the people he is supposed to represent. He would also help the homelessness crisis."
However, most California voters were against the recall because they are in favor of his environmental policies such as banning fracking and dangerous pesticides and his support for women's and LGBTQ rights. They feel that Elder does not care about those issues.
"I favor Newsom because he believes in science, minimum wage and a woman's right to choose," senior Julia Soll said.
The election results showed that 62.6% of voters voted to keep Gavin Newsom governor while 37.4% voted to recall him.
This means that Gavin Newsom will remain governor for the duration of his normally scheduled term which is set to end Jan. 2, 2023.