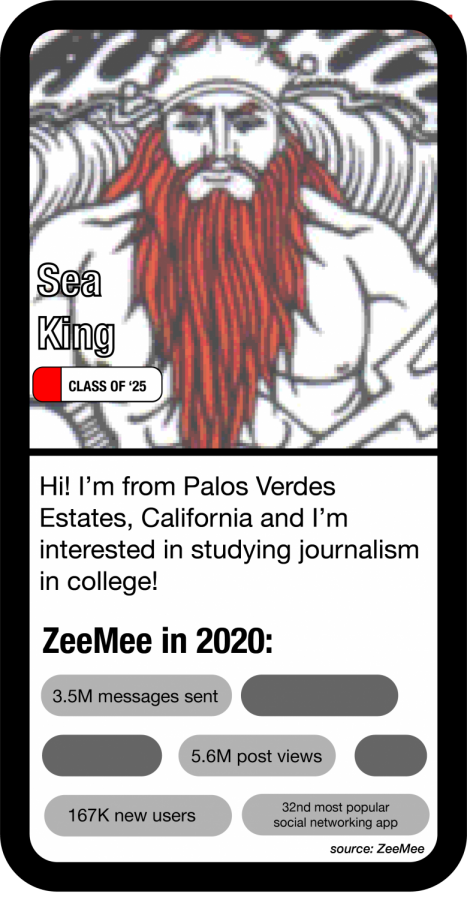 When It Comes to Finding a College Community, Seniors Embrace the Digital with ZeeMee
Before high school seniors move out of their childhood homes and onto the new adventures that await them in college, students congregate in a different kind of campus: the ones that exist online. In a pandemic year, it is through social media platforms like Instagram, Reddit, and Facebook that students are especially relying on to find a source of community prior to their fall semester. But, a new app has come to market that aims to specifically link college applicants: ZeeMee. 
Founded in 2014 by American University grads Adam Metcalf and Juan Jaysingh, "ZeeMee's mission is to bring students' stories to life and connect them with life-changing opportunities," CEO Jaysingh said in a 2017 Forbes feature. 
Each ZeeMee profile has a space for a bio and a list of interests. Users can answer ice-breaker questions, and at the bottom is a row of college logos for each school users report they have been accepted to. But, perhaps most intriguing of all is the app's group chat feature, where uses have sent over 3.5 million messages in 2020 alone. In 2020, the University of California Berkeley sent a text message to all applicants encouraging them to join the app for its group chat. 
Rohan Shah, a high school senior from Schaumburg, Ill., believes that COVID boredom and a text-push from Berkeley drove its user base up this year. 
For many students, he said, Berkeley is a top-choice school, so the message may have implied that joining such an app would enhance their application. 
And while ZeeMee was created with the intention of helping college applicants connect to the schools they applied to, "I did spend a good amount of time messing with people [who applied to schools] I didn't apply to," said Shah. 
"Joining all the school-specific admit group chats, I surveyed different student interests, hobbies, cultures, and aspirations which helped me realize where I felt I belonged as well as where I felt I didn't belong," PVHS senior Abbie Maemoto said. 
When talking about creating connections, it's impossible not to mention one user who has become larger than life amongst users. Diego Valencia, a senior at Thomas Jefferson High School in Alexandria, Va., had amassed over 300 followers on the app and has had multiple TikTok videos made about him, some getting over 100 thousand views. 
"As the days went on, I was joining new school chats and people would start noticing me," he said. "I wouldn't ask any questions about the colleges, but I would maybe insert like a witty comment, and people eventually were like 'Why are you everywhere?' And despite the fact I wasn't on the app that much, because I was in so many places… people started taking notice and were interested in what college I eventually picked."
The college application process has become synonymous with toxicity — subreddits like r/A2C (Applying 2 College) get frequent complaints about an environment that encourages unhealthy competition. But, according to Valencia, that atmosphere hasn't made it's way into the app yet. If anything, he said, it strengthened his connections with people as he continues to text with users on Snapchat and even meet them in-person.
"To me," Valencia said, "I've seen – and I've been in every chat – that for the most part it is positive and people can make friends."