"A Consequence of the Circumstances"
One Hill Project Proposes Actionable Recommendations to PVPUSD to Help Students' Mental Health and Academic Well-being
On Jan. 27, Student Board Members of the PVPUSD Board of Education, Sarah Liu and Tilly Safavian, brought attention to COVID-19 effects on high school students, proposing potential solutions in response to online learning. PVHS, PVPHS, and Rancho Del Mar student voices were enhanced through the One Hill Project Google Survey, and students rose to share their own experiances. This is a "consequence of the circumstances," Safavian said. Transparent classroom schedules, equitable testing, and the universal turn-in-before class suggestions were presented to the board, with hope for change.
Read below for student voices:
"Freshman year is difficult because we are trying to learn the system and adjust to the increased workload… Many have sports, plays, and other activities that have been affected or canceled. Things that make us feel good, successful or connected to our friends, are on hold right now. We worry that these were supposed to be the opportunities that were supposed to differentiate us when it comes time to apply to college. There are so many variables that are out of our control and that leaves many people feeling uneasy." ~ Kylie Mone, PVHS
"We are all worn out, emotionally drained, and unmotivated for everything in life which makes school so much harder, especially since it feels as though we've been largely ignored until now. We hear no updates on when schools might reopen if at all, nothing on senior activities, nor how our grades will impact college admissions. Not knowing causes so much unnecessary stress and anxiety where a solution could be as simple as having the English teachers read off the announcements to the students every day." ~ Tenley Shepard, PVPHS
"I'd like to talk about… the creation of a mental health program with the counselors of all PVPUSD schools. . . One mental health workshop a week could be available to anyone with access to the Google Classroom. This could be an opportunity for students to seek help if they don't feel comfortable reaching out to a counselor, or to destress with online puzzles and more. An idea for future consideration with this program could be small, in-person wellness cohorts specifically designated for destressing." ~ Shelby Ponce, PVHS
"Many students. . . are often up till midnight or later completing homework. They are struggling and losing interest, and we need to find ways to help them regain their motivation. These students could catch up on sleep or take the time to FaceTime friends. I know that many students would take the opportunity [of asynchronous Wednesdays] to further improve their mental health and catch up on school or extracurricular work. I believe that the students who are struggling still care and want to perform well in school." ~ Hanna Corr, PVPHS
About the Writers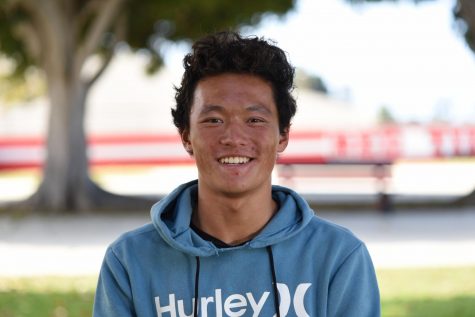 Aidan Sun, News Editor
Sophomore Aidan Sun who used to work for The Pen High newspaper, made the move to PVHS this school year. He is on the boys' water polo team, too. His...
Aurora Khatibi Garrity, News Editor
Aurora Khatibi Garrity (11) is a staff writer and member of the social media team for The Point! At PVHS, she is excited and ready for a year of growth...