New Law Hits "Snooze" For Sleepy Students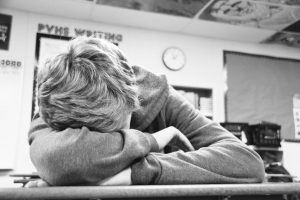 On October 13, California became the first state in the country to regulate school start times when Governor Gavin Newsom signed into law a bill that requires public high schools to begin classes after 8:30 am.
School districts (with the exception of some rural districts) will implement the law over the next three years. Schools have until the 2022-23 school year to implement the change.
In an LA Times article, Newsom detailed why he supports the new law, stating: "The science shows that teenage students who start their day later increase their academic performance, attendance, and overall health."
Sophomore Mia Beresford agreed that this law will benefit students and believes it is a step in the right direction.
"I am always tired in school, and I find it extremely hard to focus on the work," she said. Beresford added that with later school start times, "I wouldn't have to worry as much about not having enough time to get my homework done, and I could get a decent amount of sleep."
However, some students questioned whether the new law will actually make a positive difference in their schedule or sleep habits.
"I think I could leave a little [later] because of this law, but not much later because of the morning traffic that builds up the later you leave," sophomore Cassidy Virzi said.
Overall, she doesn't think the new policy is a good idea since it may actually inconvenience her.
"I think the law would increase my tardiness, because I have a set schedule for the start times now and it would be hard for me to change it," Virzi said.
On the other hand, data and science suggest that this piece of legislation will improve students' health.
Dr. Mini Mehra, a pediatric gastrointestinal doctor on the Medical Advisory Board for the Manhattan Beach Unified School District, critiqued current school start times, saying that only "about 15% of patients [in the] young adolescent age range…can tolerate waking up that early in the morning without changes in their physical body functions." This refers to negative health effects such as early morning nausea and stomach pain.
While the law is being largely regarded as a solution to students' sleep-related health issues, it's impact will not be seen by a major bloc of students. 
"The unfortunate thing with that bill, is it has not gotten rid of zero period," Dr. Mehra said.
The consequences of early morning zero period classes are also seen at PVHS.
"Last year I taught zero period and the students came to class generally exhausted, inattentive and came unprepared," Spanish teacher Cecelia Remeta said. Remeta believes the new law will be beneficial, with students arriving at 8:30 am or later "able to sleep more, eat breakfast and be alert in the morning."
Despite differences in opinion, most agree that the law is a step in the right direction to help students increase their academic performance and health.
"I think [this law is] really good because sleep deprivation is extremely common in a school setting," Beresford said. "People should be able to sleep because it's a basic need."