Munro Brings Climate Change Activism to Campus
Aurora Khatibi Garrity, Reporter
October 23, 2019
Senior Sophie Munro, a Campus Leader for Citizens Climate Lobby (CCL), has brought her advocacy for climate change legislation from Capitol Hill to Palos Verdes High School.
This past summer, Munro became a part of CCL, and is using her lobbying experience to create the needed student voice into the important and polarizing issue of climate change.
CCL is a nonprofit organization focused on national policies for climate change, but to Munro, it is much different from most climate advocacy organizations, since it is nonpartisan.
Due to her general interest in climate change legislation advocacy, Munro ended up going to her local CCL chapter's meeting, got more involved, and eventually was invited to go to Washington DC.
Although Munro only recently joined CCL, she quickly made contact with Sebastian Young, one of the regional fellows across the country that works with CCL.
Young has found Munro's passion for climate change advocacy to be a huge asset for the organization, as they value students' opinions on their future.
When Young first met Munro in DC, she asked for assistance in starting a CCL chapter at PVHS. Young found her initiative to be an excellent step towards establishing more chapters in California, a major goal of the organization.
Munro's trip to Washington D.C. amplified her voice in the discussions on climate change.
"For the first two days, I was in conferences where we learned about the Energy and Innovation and Carbon Dividend Act (HR763), and we learned how to lobby a representative in the House," Munro said.
HR763 is the focal point of the organization- it was written by CCL. The bill puts a fee of $15 per metric ton of carbon dioxide emissions on fossil fuel companies. The fee goes into dividends for every citizen in the country per month. The money is taxable, meaning the wealthy with higher income receive less money, while low-income citizens would receive that check to adjust to the higher gas prices.
Munro has advocated for the bill to legislators such as Representative Ted Lieu, and beyond her time in D.C., according to Young, she "does an excellent job of planning out how she is going to advocate CCL at her school and work with other students."
Along Munro's journey, she has brought advocacy for the representation of students opinions. According to Young, one of Munro's greatest moments was through her work as campus leader for California and PVHS. Young was checking off boxes for what each campus leader of California had done, and found that Munro had checked off every box.
"As soon as it came time for her to engage with her students, she immediately had a plan for how to get people to sign up. Ever since the summer, it's been clear, she's been on top of things at every point," Young said.
Alongside her efforts to promote climate change bills to be passed in Congress is junior Paolo Brinderson, the Vice President of the CCL club at PVHS. Munro and Brinderson hope to introduce and reform students' ideas of climate change activism, and help student's voices on the matter be heard. According to Brinderson, Munro is "very reliable and responsible, and is never behind."
Going full steam ahead after Munro's journey this past year, she now hopes to further involve PVHS in CCL. According to Munro, the lack of representation in climate advocacy among the younger generations was disappointing. There were around 3000 people from around the country at the Washington DC legislation meeting, 50 of which were high school students.
According to Munro, "I realized that most kids don't know that this organization exists. To be the ones pushing for these policies, in conjunction with these climate strikes, was really attractive to me." Munro's plans to start the CCL club at PVHS may be small now, but she hopes for future students to continue to grow the club.
Munro's experience in CCL and the Washington trip has inspired her to go down a similar path in college as she plans to study economics and applied math. "I hope to be a part of forming [these market-based solutions] policies in our government that will drive the market to want to be more sustainable in that unique way."
In the future, Munro hopes to further her involvement in CCL, pass HR763, and "educate peers on climate activism, giving them a voice no matter their political affiliation. It's a human issue, not a party issue."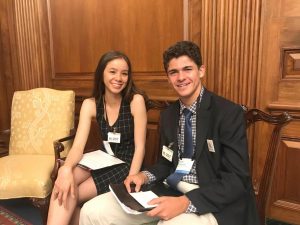 Sophie Munro and Paolo Brinderson in Washington D.C. with the Citizen Climate Lobby. Photo Courtesy of Sophie Munro.