Tyner's Top 10 of the year (by The Point)
1. Mindfulness Center
This year PV High took another step into helping the mental health of their students by creating a Mindfulness class on campus. Taught by Tammy Sheridan and Jill Moeller, the class aims to spread wellness and teach students how to reduce stress. The Mindfulness classroom is not like any other classroom on campus. Dimmed lights, an essential oil diffuser, and yoga mats are important components of this classroom environment. Students practice meditation and learn stress management tools that will last them a lifetime.
2. Footloose Musical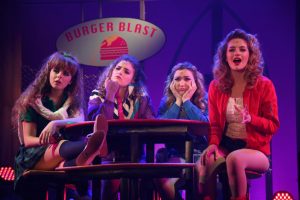 This year's spring musical was the show "Footloose." The show was performed at PV High from April 12-14 and 18-20. Students, teachers, and parents loved the energy of the musical and it was definitely a winner, with multiple shows sold out both weekends. 
3. Challenger Basketball Game
With other Sea Kings cheering on the sidelines, students in the Special Education classes engaged in an energetic basketball game on Thursday, April 11.
Be the Change partnered with the players to foster a sense of community among all students and to maintain a spirit of support and empathy.
4. Unity Circle
The Unity Circle occurred on April 12, the Day of Silence, and was an event that brought Palos Verdes High School together to promote the voices of the voiceless. 
Faculty came together in a circle of unity to remind students that they are in safe environment where they can express themselves without any fear or self-hatred. As an integral part of Diversity Week, the Unity Circle is an unforgettable moment at PVHS. 
5. Butterfly Migration
Around the middle of March, massive swarms of butterflies migrated through Palos Verdes, and students could not get enough of the beautiful, flying friends. 
Countless Snapchat posts were made, a 205 story was produced, and even a few moms shared the migration on their Facebook pages. 
The butterflies made their way from Mexico, through the South Bay, and hopefully to their destination in the Pacific Northwest. 
6. New Administration
This year, PV High's administration gained two new, friendly faces: associate principal Gayle Carpenter and principal Dr. Allan Tyner. Carpenter has spent the past eleven years in education administrative work, and has helped amend curriculum at PVHS. Dr. Tyner, formerly an assistant principal at Downey High School, received his doctorate in Educational Leadership at USC. Since starting at PVHS, Dr. Tyner has made a few changes, including the famous "Tyner's Top Ten," making his mark in effective communication with students and parents, alike.
7. Marine Bio Whale Watching
On March 28, Ms. Wood took her Marine Biology and Marine Biology Honors classes on a whale-watching field trip for the day. They took the Harbor Breeze Cruise and departed from San Pedro. They got the chance to see grey whales, dolphins, seals, and sea lions. This trip was a great opportunity for students to see what they learned in the classroom in real life. 
8. PV-Pen Baseball game
On Thursday, April 25, PV Varsity Baseball played against Peninsula at Loyola Marymount University's field. Under the lights with crowded stands, PV beat Peninsula 9-0. Junior Luc Balcom hit a bases clearing double, and senior Aaron Davies went with a complete game shutout. The biggest highlight of the game was junior Tyler Imbach hitting a home run for PV. This game was a great end to the season for majority of team who are graduating in June. 
9. Scholar Quiz
Students flooded the gym on April 30 to watch the Scholar Quiz Championship teams, Hawkeye and Griff Guy 2000, face off in the ultimate academic battle of the year.  Hawkeye took home the $1,000 reward after winning the competition with a final score of 325 to 150 points.  The triumphant team was composed of seniors Eric Kim, Ian Rock, Sean Keenan and Maxwell Yee.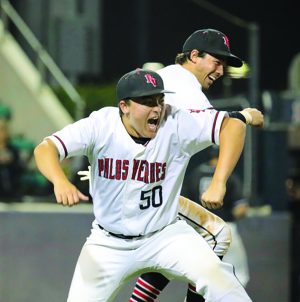 10. Sports Dominate at CIF
While every team played in CIF, some teams went further than others. 
Both girls tennis and girls basketball made it to quarterfinals in CIF. Girls' Golf finished in fourth place in CIF. 
Boys' Tennis and Boys' Basketball both made it to semifinals in CIF. Football got second place in CIF. Boys' Lacrosse made it to LALF Los Angeles Finals and Girls' Lacrosse became LALF Los Angeles Champions. 
Both Boys' Cross Country and Girls' Cross Country finished first in CIF. 
Boys' Cross Country finished 5th in state and Girls' Cross Country finished 2nd in state.