Hawkeye Prevails in Scholar Quiz
Claire Hardesty, Writer
May 2, 2019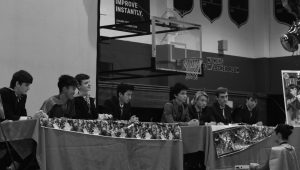 Some people can compete with ease, while others stand by with gaping mouths. How do these teams prepare for these questions? Are they superhuman or have they painstakingly prepared?
This unique competition, Scholar Quiz, has been going on for thirteen years and has brought forth trivia masters and one intense competition. Last year, a team of juniors won the championship and they are back with intentions of winning again.
This all-star team consists of the now seniors, Eric Kim, Ian Rock, Sean Keenan, and Maxwell Yee. The team has changed slightly but as returning victors, they are a force to be reckoned with.
 "Ian and I were on the team last year, but our other two team members decided not to be on the team with us this year. We always wanted to have Sean on our team and then we also went and got Eric on the team because he's crazy good at math," Yee said.
Scholar quiz brings together some of the smartest minds at our school, as well as brings together trivia lovers from all ages and strengths.
"I heard there was a competition for trivia and I thought, I watch Jeopardy every night, I can do trivia," sophomore Fin Kehrli said.
This year's theme for the annual Scholar Quiz event was Superheroes, which provoked both excitement and intimidation.
"I think it's a cool idea, they have a good theme every year, but Marvel vs. DC is super nice and it's a good way to draw people in to Scholar Quiz," Kehrli said.
With a hefty 1,000 dollars on the line, teams prepare accordingly, all hoping to rise victorious from the steep competition. In order to win this unique competition, teams get together to practice, and individuals have their own unique ways of preparing.
"Any preparation technique is only going to move you up the margins a little bit, but if it's a very close match maybe that little bit of studying will help," Rock said.
Junior Frankie Reid found it best to study individually.
"It's hard to prepare, you just have to know the topics already, because you don't know what type of questions will be on it so you can prep on the certain types of questions," Reid said.
The competition began on April 22 and the victors were announced on April 29 during the championship final. Social studies teacher Tecia Barton oversees this tense competition.
"Going into it, we were pretty confident but we weren't taking the stands that we were going to win because we knew there were some really good junior and sophomore teams that had done really well last year too, so we were watching out for them," Yee said, as he is captain of the returning champions, Hawkeye.
Classmates carefully chose teammates according to expertise as to cover all topics across the board.
"Eric is definitely the math guy, Sean and I do the history and geography, Maxwell has the science and general knowledge,"  Rock said. "But it's not very segmented, you'll get a lot of different types of questions and we are all capable of answering them."
The championship match was between Hawkeye, a senior team and the returning champions, and Griff Guy 2000, a junior class team consisting of Nikolas Tempereau, Jake Leonard, Anton Lok, and Steven Davis.
Hawkeye rose victorious for the second year in a row with a final score of 325 to 150.  
As the foot bouncing, paddle raising, and mind battles end, teams may walk away from their final Scholar Quiz whereas others will hang up their superhero capes for now and return with vengeance next year.
Watch out, the superhumans of PV High are not done yet.
About the Writer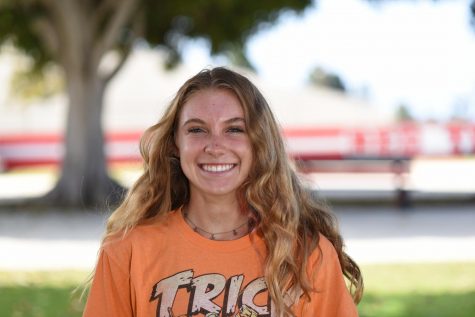 Claire Hardesty, Sports Editor
Claire Hardesty is a junior at Palos Verdes High School and she is the sports editor of this year's Point staff. She has participated in cross country...