Jazz Students "Band" Together
Heather Bryant, Writer
December 21, 2018
Hang on for a minute...we're trying to find some more stories you might like.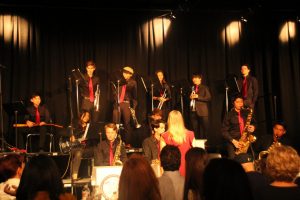 On December 7th, 2018, almost two hundred people gathered in the MPR to hear the PVIS Jazz Ensemble and PVHS Jazz Band 1 and 2 perform in the winter jazz concert. The PVIS Jazz Ensemble opened up with songs that included 'The Bare Necessities' before letting Jazz 1 and 2 take the stage to perform a variety of older songs.
"We're playing a little bit of everything, like some old jazz standards such as 'Little Brown Jug' and jazz arrangements of Christmas songs like 'Santa Baby' and 'Here Comes Santa Claus', some of which we have vocalists on," PVHS Music Department head Shellie Parkinson said. "We're also doing some Latin tunes such as 'Nutville' and 'Children of Sanchez.'"
Following PVIS's opening few numbers, Jazz 1 got up on stage to perform such songs as 'Harlem Nocturne' and 'Big Mama Cass', the latter of which senior guitarist Jesse Butler performed a solo on.
"Even though I didn't get to play on it, my favorite song was 'Harlem Nocturne' because it was nice and slow and the melody sounded like it was from an old crime movie," Butler said.
After Jazz 1 carried out their performance, Jazz 2 took the stage to play some jazz standards and Christmas songs, before finishing up with 'Children of Sanchez'. 'Santa Baby' featured two vocalists, with some of the verses being sung in English by Jazz 2 pianist and vocalist Lea Rundblad, and some of the other verses being sung by Chilean exchange student Emilio Orellano in Spanish.
"We thought that it'd be a really nice touch to add some Spanish into the song because everybody knows 'Santa Baby', and it would be kind of generic if I was up there singing by myself in English," Rundblad explained. "We decided to have this Chilean kid, who doesn't really have that much experience singing, to come up on stage and sing some verses in Spanish. It makes the song a little more interesting."
The PVHS Music Department had been rehearsing for the concert for over three months, ever since the beginning of the school year.
"It hasn't been too much of a struggle finding time to practice, because there are basically two hours of practice at a time during school, two or three days a week. During that time, we run through all of the songs we have to practice for the show, so it's been pretty manageable," sophomore trumpet player Anna Tom said.
"I know many people that try and practice outside of school to make sure they have the songs down, myself included," junior tenor saxophone, bass, and clarinet player Tyler Brondial added. "Other than that, it's just been a fun time."
Although jazz band has had to spend countless hours practicing these songs, rehearsing for and playing in the cumulative annual winter concert has been an enjoyable and rewarding experience for the students nonetheless.
"It's been a fantastic experience being able to work so hard for a whole semester and then to put everything we practice for into one big concert," said junior Jazz 2 drummer William Nicholson, who performed drum solos on 'Nutville' and 'Children of Sanchez.' "It's also just been really fun being able to rehearse with a group of friends that all love playing music, especially in high school having the talent that they have at this age."
"The fact that some of the verses of 'Santa Baby' are being sung in Spanish is charming and adorable, and I'm very excited about it," Parkinson continued. "There's definitely some diversity within the songs that are being performed this year."