Admin Prepares for Halloween Scares
With Halloween approaching quickly, students, especially seniors, are being reminded of proper behavior.
Grace Hsieh, Writer
October 22, 2018
Students are looking to carve out some good times this year for Halloween, but administration and staff are looking to keep the fear factor down for all students, especially underclassmen.
In past years, giant groups of seniors have thrown things, such as baby powder, silly string, and more at the underclassmen.
The senior class has become notorious for terrorizing others on this special day.
Nate Lantz, now a senior, remembers what things were like when he was a freshman.
"[I was] terrified. My classes were on opposite sides of campus and I saw 100 senior girls dressed as babies," Lantz said.
Lantz recalled "seeing [his] friends get mauled with baby powder and shaving cream."
Now, Lantz acknowledged that the senior class might have a "bad reputation" for their Halloween festivities, but realizes the significance it holds for the upperclassmen.
"[It's] not as bad as it seems because it brings everyone together and it's very fun," Lantz said.
Senior Ryan Shikiya is also looking forward to Halloween this year as a senior. Luckily, Shikiya did not have a bad experience as a freshman because his classes were all in close proximity to one another, so he was able to avoid the things being thrown.
In regards to this year, Shikiya feels as though the senior class should not resort to the traditions of previous seniors.
"I want to have fun like usual and not do anything stupid," Shikiya said.
Administration is hoping that all seniors share this same sentiment.  
New principal Dr. Allan Tyner is always excited for Halloween, but wants to make sure everyone is safe and that there are no issues with people harrassing underclassmen.
"[Students should] respond appropriately, dress up, follow rules, and have a good time," Tyner commented.  
Aiming to keep students safe, Tyner said the school will be following the same rules as years prior.
He will be going into classes and informing students about Halloween information and rules.
"As always, we will have appropriate security and teachers will be out in the hallways," Tyner said.
Security guard Olivia Carrasquilo is one of many staff members who will have to be extra vigilant that day.
"[We will be] checking cars and enforcing last year's rules and seeing what students have brought," Carrasquilo said.
Current freshman have heard what has happened before, but some are not fearful at all.
"I think it's fun and no one should take it seriously or in a bad way," freshman Ariel Cooper said. "I would not take it personal and laugh it off."
Tyner is confident that the students will have a fun and safe Halloween.
"Students will dress up and do the right thing and follow rules," Tyner said.
Carrasquillo is also looking forward to what entails Halloween this year.
"Costumes are exciting to see and the creativity too," Carrasquillo said. "But the costumes should also be in control and be within the rules."
Although the rules have not changed enormously, some members of the senior class still feel as though the rules are limiting.
"[They're] way overboard, we need more freedom and everyone has already seen the consequences," said Lantz.
"It's good to have rules, though, but too many encourage rebellion and people to do bad things."
About the Writer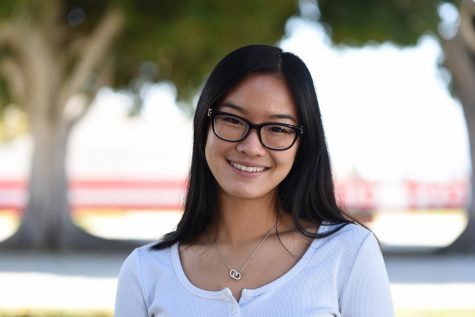 Grace Hsieh, Reporter
Grace Hsieh is a sophomore at Palos Verdes High School. This will be her second year writing for The Point and she enjoys writing for the features section....