Day of Silence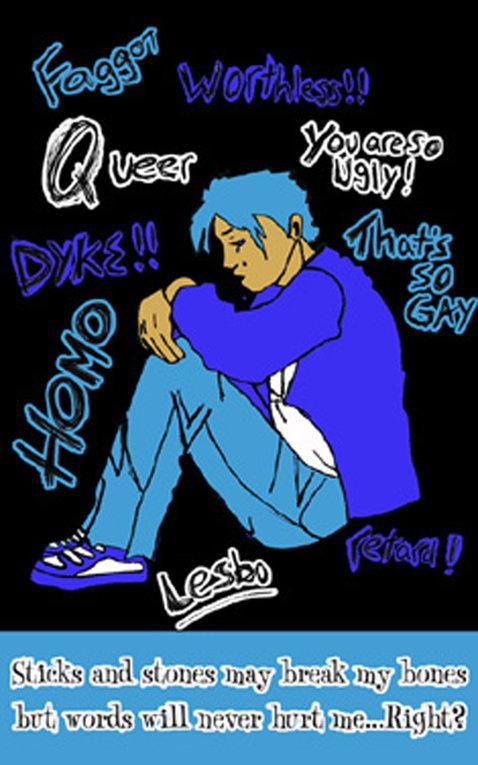 The word "silence" is usually used to describe a quiet library or a peaceful lake in the middle of the mountains.  Rarely is it intended to suggest words like "obscurity" or "absence." However, Merriam-Webster online and Dictionary.com define silence using these two words, among others. Obscurity means the condition of being unknown, and comes from the Old French word "oscureté" which means "gloom; confusion; insignificance."   With this understanding of the word "silence" in mind, Palos Verdes High School's annual "Day of Silence" takes on a whole new meaning.
The Day of Silence is an annual school event that is designed to demonstrate/symbolize Palos Verdes High School's acceptance of sexual diversity (gay, lesbian, transgender, and bi-sexual people).  Organized by PVHS' Gay-Straight Alliance (GSA), the Day of Silence brings participating students and faculty together in a vow of silence and show of support. These students choose to either not speak at all for one full school day, including in class, or to remain silent only during lunch.  This vow of silence is meant to represent the silence and feelings of obscurity that many gay, lesbian, transgender, or bi-sexual people must endure every day.
GSA advisor Ms. Varela says the Day of Silence, just like PVHS' Challenge Day, Diversity Week, anti-bullying curriculum, and Be the Change class, is "about respecting and valuing all human beings and supporting every student on this campus."  Furthermore, because the Day of Silence marks our campus as one of "acceptance, of appreciating and valuing diversity, [and] of making a safe environment for all students," Varela says, "then it really is something we should be part of."
The first year PVHS had a Day of Silence was nine or ten years ago, according to Varela. That year, a group of students wanted to start a GSA and asked her to be their advisor.  GSA has hosted a Day of Silence every year since.
Although the Day of Silence has been a campus event for many years, misconceptions still linger. For example, GSA secretary, junior Sonia Norton, explained that one common misconception is "you have to be gay or lesbian to participate in the Day of Silence. The truth is that the majority of participants are straight and they just want to show their support for equality."
Many GSA members have family members or friends who are either gay, lesbian, transgender, or bi-sexual, while others do not and simply want to show their support.  In addition, Norton added, "another VERY common misconception is that you have to take the [day-long] vow of silence."  However, many people choose to wear the Day of Silence shirt but talk normally in class, staying silent only during lunch. Norton continued, "We won't shame anyone who doesn't take the [day-long] vow of silence."
The Day of Silence is a powerful indication of the importance of being able to express oneself.  Norton, who has participated in the last two Days of Silence and is planning to participate this year as well, stated that staying silent "really shows you who [would] support you no matter what and who [would not]."  She remembers one time when a student in her class came up to her and began asking pointed and obnoxious questions, trying to break her silence.  Others, on the other hand, supported Norton's participation.  Participating in the Day of Silence made Norton feel proud because the Day of Silence "shows the bullies in our community that the kids they hit and mock are not alone and that sooner or later the bullies will be seen as the 'losers' in society's eyes."