Warren on Wheels: A commute to save the earth
Jim Warren has taught Physics at PVHS for fifteen years. He loves riding his bike to school on a daily basis and keeps it to the left side of his classroom desk.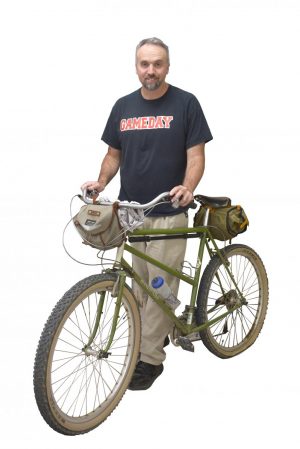 "I once ran a stop sign" and got pulled over by a cop. "There was nobody around, I just rolled through the stop at Lunada to Pacheco," said Warren. 
"I went to turn and a policeman stopped and lectured me a bit. I didn't argue. He appreciated that I was honest and gave me a warning."
Senior Will Arnold, a physics student of Warren, said, "He is a fantastic teacher." 
Arnold particularly loves the day Mr. Warren used physics to explain how he avoided a ticket when the cop pulled him over. 
"His bike reminds students that he rides his bike almost every day. There were two days out of the entire 180 days of school that he did not ride his bike: he was sick both days," said Arnold.  
Warren even rides his bike on rainy days. He just makes sure his bike has fenders and he doesn't mind getting wet. 
Warren said, "I keep a change of clothes at school. Riding in the rain is actually pretty fun…if the bike has fenders!"
Senior Calvin Ytterboe, another physics student of Warren, admires his devotion to biking. 
"He is an environmentalist and doesn't want to be driving his car to school every day… he looks around the world, looks at himself, and says, I need to be riding this bike every day because I care. We should all rides bike too, just like him," Ytterboe said. 
Warren reflects on an interesting sight he witnessed since a bike is quieter than commuting to school in a car. 
"Because you are not in a noisy vehicle, sometimes you can come around a blind curve and when there are no cars, you will catch a vulture eating a dead animal in the middle of the road," said Warren. 
"Ever since I was a kid, I enjoyed riding a bike. When I was 18, I got a mountain bike and developed a strong interest in climbing up dirt hills. I ride on the road, but prefer to ride on dirt trails as it is safer."
Nine years ago, Warren got in an accident and was in the hospital overnight with a concussion.
Despite that incident, Warren feels comfortable sharing the road with cars. When asked about the recently passed law that cars must give bikers three feet, Warren said, "It makes drivers reluctant to pass even when there's room to do so."
He enjoys riding his bike on vacation too. He has ridden throughout California and when traveling abroad, he will rent a bike to explore foreign countries.
Warren's favorite thing about his career is working with the students. 
His advice for PVHS students is, "While you are worried about the future, don't let that compromise the enjoyment while you are here, and learn to fix a flat tire on your bike."