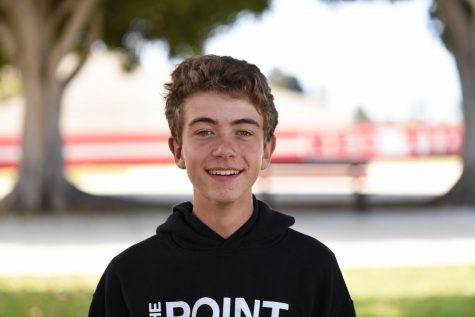 Ethan King
Reporter
Ethan King is a junior at Palos Verdes High School. This is his second year as a writer for The Point. Not only does Ethan invest his time as a journalist, but he also enjoys playing golf. Ethan has many...
A Spotlight on Multicultural Sea Kings
October 23, 2019
At first glance, senior Kelsey Sanchez may not seem multiracial, but her heritage reveals her diverse background. With a Japanese mom and a Hispanic and Native American dad, she feels she has a different...
Mentoring Youths, Creating News
October 23, 2019
Junior Sydney Lyle rushes to 7th Street Elementary after a day of classes, buzzes herself into the office, and signs in. She then heads over to the computer lab where she is greeted by 30 elementary school...
Warren on Wheels: A commute to save the earth
October 23, 2019
Jim Warren has taught Physics at PVHS for fifteen years. He loves riding his bike to school on a daily basis and keeps it to the left side of his classroom desk.   "I once ran a stop sign" and...