Sea Kings Turn Scholar Kings
Curtis Liu and Sarah Liu
May 22, 2019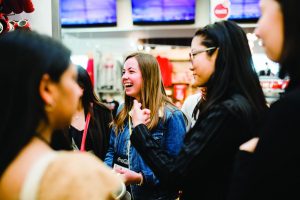 By Sarah Liu
Senior Hana Meroth is known by her teachers and peers as a standout student and leader, with determination and passion for the activities that she takes up on campus. This year, the Coca Cola Scholars Foundation recognized her drive as well, naming her as one of 150 Coca Cola Scholars across the country and awarding her a $20,000 scholarship. The Coca Cola Scholars Program Scholarship is an achievement-based scholarship honoring students for their leadership and ability to make a positive impact in their communities.
"Coca Cola scholars are supposed to be change-makers," Meroth said. "The stuff that we do is supposed to really impact the rest of the world and future generations, so I think that's what they were really looking for."
Meroth is deeply involved in PVIT and lead the Women in Stem and Engineering (WISE) club as president. Meroth also completed her Girl Scout Gold Award project, Cranes for Comfort, where she led volunteers in crafting thousands of paper cranes at Belmont Village Senior Living Center to deliver to hospitals. The project was inspired by her Japanese grandmother, who introduced her to the Japanese legend of folding one thousand paper cranes to grant one wish of health. 
The process to apply for the scholarship was lengthy with four phases. First, Meroth had to answer basic questions about herself. In the second phase, she was asked questions about her community service and eventually had to write application essays for the third phase. Finally, she had to undergo an interview to be finally selected as a Coca Cola Scholar. 
"I was so surprised," Meroth said. "I thought there was no way in heck that I would get [the scholarship] just because of how selective it was. I was really in shock for a long time."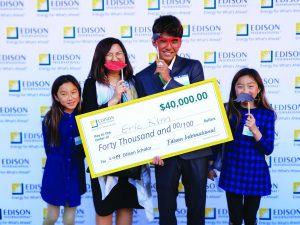 By Curtis Liu
Eric Kim is one of the 30 Edison STEM Scholars, with a total application pool of 734. 
This is an astounding 4% achievement. 
Every year, Edison awards the scholarship to recognize the makers of tomorrow and empowers them to change the world. 
Along with his Edison scholarship, Eric is also part of the  presitigious Gates Millenium Scholars Program, a highly selective award where only 300 students are selected. 
Kim is also involved with many of PV High's extracurricular STEM activities, such as FIRST Robotics Competition (FRC), Math Club, and Tests of Engineering Aptitude, Mathematics and Science (TEAMS). 
Recently, as the team captain, he led his team of eight students to the top overall score in the state and second overall score in the entire TEAMS contest, which is only his team's second attempt. 
In the near future, Eric is attending Cornell University and "would like to pursue a career in engineering or analytics." 
A piece of advice that Eric would like to share with younger peers is "to write. Keep a journal. There's always so much going on all at once, and writing things down helps you think more clearly and better understand your thoughts. It slows down time and makes you critically aware of all that is happening." 
Winning these two scholarships is just the beginning of a bright future for Eric. 
In response to Eric's incredible accomplishments,Teresa Hoffman, Financial Aid and Scholarship Advisor at the College and Career Center said," Eric is an amazing recipient for the Edison Scholar Award and the Gates Scholarship…I couldn't think of anyone else more better suited for it."
About the Writers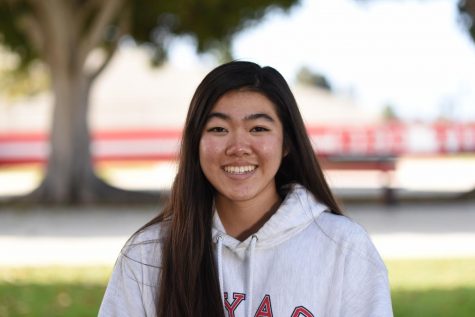 Sarah Liu, News Editor
Sarah Liu, the News section co-editor of The Point, began journalism when she was in 7th grade, starting as a Kid Reporter for Sports Illustrated Kids,...