Out of Sight, But Not Out of Mind
Claire Hardesty, Writer
April 7, 2019
Palos Verdes is a beautiful place at first look, but after walking trails and going off the beaten path, some incredible places exist, waiting to be found. These token places exist all over the hill but take some searching to find.
Palos Verdes Estates: If looking above PVIS, you might see a few trees on the top of a hill. To get to these trees, you can scale a hill that starts above the stairs that lead down from PVIS. At the top

there's a small collection of trees and a large hill with an amazing view. At the

top,

there's also a wide street that is very photogenic.

Lunada Bay: 

A more well-known place is the set of stairs that go up the side of a bright green hill in Lunada Bay. These stairs lead to a neighborhood where another trail can be found through some bushes and trees. This trail leads through some hills and up to another street. Walk to the top of this street and you'll find a large canyon with a wide view.

Palos Verdes Peninsula: When driving on Montemalaga Drive, there is a large canyon on the side of the road. This canyon goes far back in between two neighborhoods and if you walk through it to the end, you'll come out near the Peninsula Center. This canyon is definitely worth a visit; it is a personal favorite of mine as it can be explored for hours.
 Malaga Cove: Below the Turkey Trot trail in Malaga Cove, there is a tree swing that swings out over the hill, and a great view of the ocean and city can be seen.
 Montemalaga: The telephone pole off the dead-end street Via Visalia near Montemalaga  Elementary has a beautiful scene. This cliff has an incredible view of the ocean and beyond. There is also a trail that leads down to Lunada Bay which starts from this cliff.
Palos Verdes Peninsula: Below Chadwick School, some trails are visible, but if you slide down the side of the canyon there is a large ravine is with two trails on both sides. It goes for miles in both directions. There is a small stream down the center and many wildflowers and plants grow freely.
About the Writer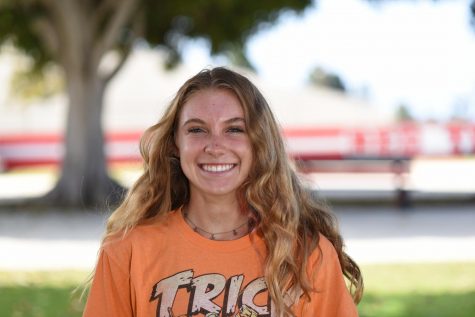 Claire Hardesty, Sports Editor
Claire Hardesty is a junior at Palos Verdes High School and she is the sports editor of this year's Point staff. She has participated in cross country...