Throwback to Palos Verdes, Circa 1900s
Claire Hardesty, Writer
February 21, 2019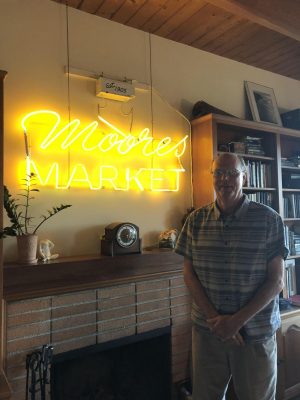 Early 1900's: the Palos Verdes Peninsula is residence to 100 families, the roads end on Grand Via Alta Mira, and one family delivers groceries to all of the residents on the hill.
Nestled into the corner of a newly built Malaga Cove Plaza, Moore's Market stood as one of Palos Verdes' first installments.
The Moore's family legacy began with Arden Moore. He moved to Redondo Beach as a child in the early 1900s.
Before coming to Palos Verdes (PV), the Moore family started by working on the railroads in Rye, Colorado, then worked in the mines in Globe, Arizona before the family became involved in the Globe Grocery business.
The family moved to PV in 1923 to work on oil derricks, but ended up buying a market on Garnet street in Redondo Beach.
The Redondo store closed and then the Palos Verdes market was opened in 1932.
Arden's son Burton Moore was born and raised in PV.
Growing up, "Grandpa [Arden] would drop off my dad [Burton] on the corner of Palos Verdes Drive and Rolling Hills Road with a pistol and his rifles. He'd hunt his way over the top of the hill. He'd shoot rabbits and squirrels," Burton's son, Veith Moore said.
Burton took over running the Malaga Cove grocery in 1948, but soon bought a space in Lunada Bay.
This became known as Moore's Lunada Bay Market.
"Burt and Loddie [his wife] bought a home in the tree section, along Palos Verdes Drive North, it ended up being too dark for him, the family then moved to Palos Verdes Estates," Jerome Hardesty said.
This house was where Burton's children, Veith, Shannon Moore, and Cindy Stonegate grew up.
Burton's children grew up in PV helping in their dad's grocery store and saw Palos Verdes during a time when PV was "bare, no trees anywhere. It was beautiful," Hardesty said.
Veith and Stonegate both continue living in PV to this day, as they have watched the evolution of the town from its roots.
Veith attended Palos Verdes High School for two years, and then was sent to Rolling Hills High School when it first opened before his junior year, and he graduated in 1996.
"Those were some pretty fun days. They had portable buildings. It was so chaotic. All they had was a parking lot to put them in, so we'd have class in the parking lot. We'd just leave for a while and no one knew we were gone," Veith said.
During his childhood, Veith witnessed some incredible events in Palos Verdes.
"Some things that really impressed me while growing up here was the snowstorm in about 1949," Veith said.
"A couple years after, there was a pine forest behind the plaza and it caught on fire. I was standing in my dad's backyard, watching the whole side of the hill in flames."
Veith's high school experience was filled with taking advantage of PV's surplus of empty space.
"We were in a car club in high school and we liked to race, so we would go up to Grand Via Alta Mira, and … we'd drag race our cars up there," Veith Moore said.
As Veith approached his adulthood, he didn't plan on staying in PV, but found his way back where he started.  
"It was a neat place to grow up, but by the time it came for me to leave home, I was looking for somewhere else. I actually went to Hawaii and got into school over there and ended up staying there for eight years," he said.  
"Then my dad bought the building in Lunada Bay, so I came back to help him start that… I started making some money and bought a house," Veith continued.  Cindy Stonegate is a younger sibling of the Moore family. She works at Peninsula Optometry currently.
"I graduated from Rolling Hills High in 1978.  What's kept me on the hill since then is primarily my family and also the weather and beauty," Stonegate said.
"Things that have changed are the open fields that we grew up playing in are mostly houses now," Stonegate continued.
Throughout both siblings' lives, PV and their family's long history here has brought them home, thanks to memories of the markets where they worked as children and of growing up in early PV.
The Moore's have truly made a mark on the Peninsula, and the peninsula has equally made a mark on them.
Now, when walking the now heavily inhabited streets of Palos Verdes, think about what it looked like almost 100 years ago.
Few buildings, streets and lights, just a quiet, little hill.
About the Writer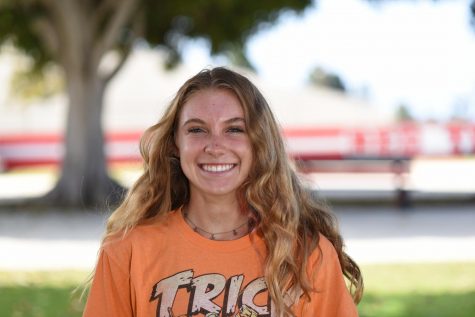 Claire Hardesty, Sports Editor
Claire Hardesty is a junior at Palos Verdes High School and she is the sports editor of this year's Point staff. She has participated in cross country...