Sia's Bad Idea:
Ableism and Misrepresentation in Her Controversial New Movie
Sia, the Grammy-nominated pop sensation, has taken over our playlists and radios with catchy hits like "Chandelier" and "Elastic Heart." 
Unfortunately, her attempt to take over our movie screens with her new directorial- debut film, Music, has backfired. 
Music follows Zu, an estranged free spirit, who is left as the sole guardian of her half-sister Music, a young teenager on the autism spectrum.
When the first teaser trailer was released back in November, Sia received backlash for casting Maddie Ziegler, a neurotypical actor, to play an autistic character. The trailer was uncomfortable to watch, with Ziegler jerking her head around and having a violent episode when portraying the character.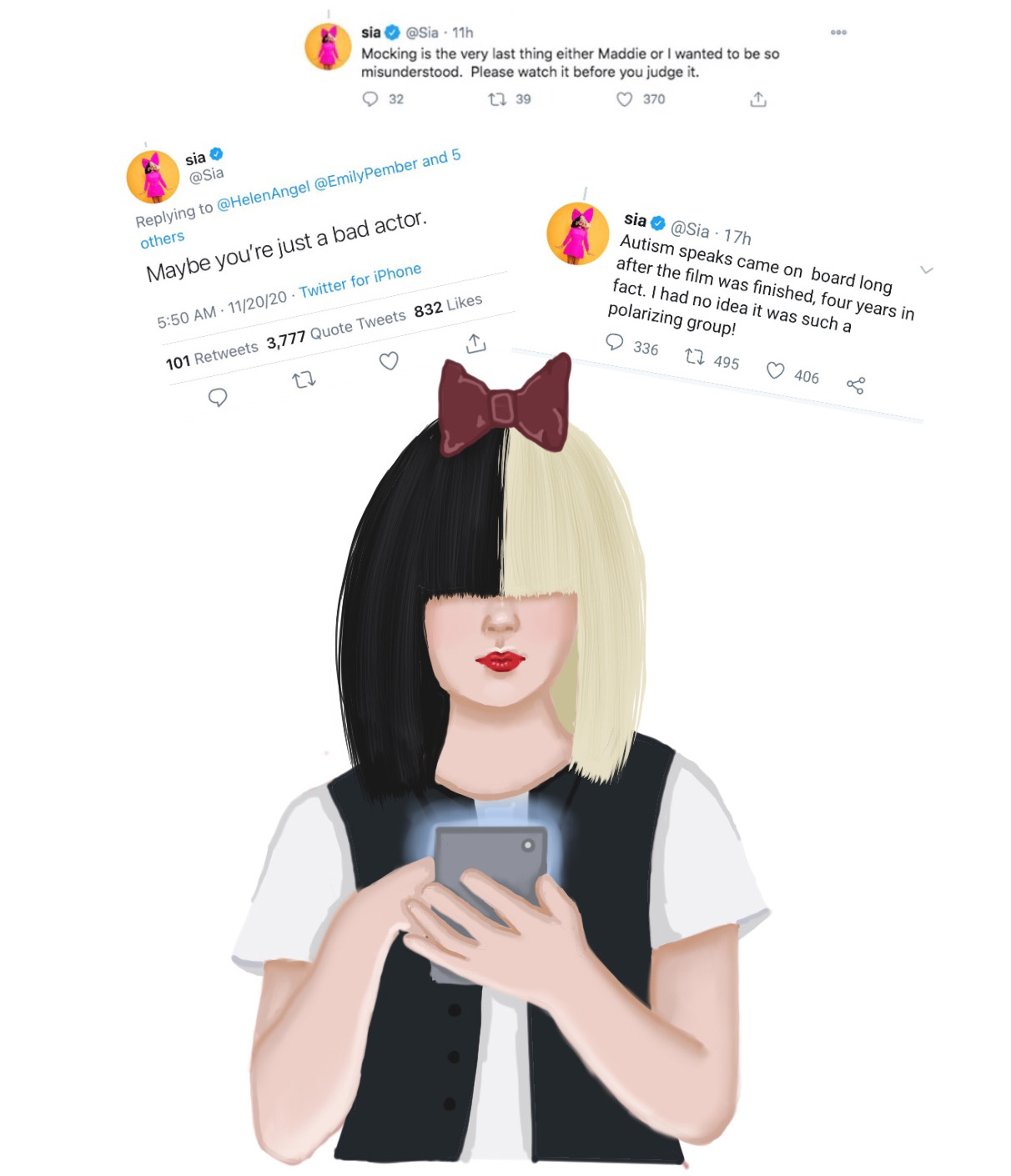 Many activists in the autism community have found the performance to be offensive and inaccurate. They expressed disappointment and anger towards Sia for excluding actors who are neurodiverse and/or disabled from such an important project.
Sia claims that she auditioned several non-verbal actors, but claimed they were all too "stressed out" to perform, resulting in her chosing Ziegler. 
Sia insisted that her choice of casting was simply nepotism, admitting she couldn't "make art" without Ziegler. Ziegler has starred in many of Sia's music videos and projects, and even went on tour with her back in 2016.
Sia should have cast a person with a disability for this role, but instead chose the easy route of picking someone she had worked with many times before, making the film both exclusionary and offensive. 
The casting decision was not the only cause of controversy. The nonprofit organization Autism Speaks was involved in the production of the film. The group has been denounced by the autism community multiple times for taking money away from neurodiverse care and failing to represent the community accurately. 
As Twitter users flooded Sia's inbox with furious tweets, the singer took the time to fight the criticism with an angry rampage of replies. In response to an autistic actor suggesting that there could've been a greater effort to cast an actual disabled actor for the role, Sia said "Maybe you're just a bad actor." She claimed that "her heart has always been in the right place" and implored people to watch the movie before making their own assumptions. The rest of her tweets were a flurry of swear words and childish comebacks. 
The controversy around this upcoming movie points to a bigger problem in the movie- making industry. 
According to a study by the Ruderman Family Foundation, "95 percent of characters with disabilities are played by able-bodied actors and at least 59 able-bodied actors have received Oscar nominations for portraying characters with disabilities."
Filmmakers should offer equal opportunities to actors with disabilities as neurotypical ones in order to destigmatize the neurodiverse community. 
Sia should not have used Ziegler, as using a neurotypical actor to play the role of a girl with disabilities is harmful to both her career and to the overall representation of the autism community.
Her response to the very valid criticism was also unacceptable, and she should admit her faults.