PV students lobby in state capitol
Students from PVPUSD had the opportunity to speak with legislators in Sacramento
May 18, 2017
On April 18 and 19 a group of Palos Verdes High School teachers and students traveled to the state's capitol to lobby for the school district and certain issues surrounding education. These students and educators from PVHS were joined on the trip by other teachers, students, and administrators from the school district (including students from Peninsula High School and Rancho Del Mar High School, and teachers from the elementary and middle schools). Students had the opportunity to talk to representatives of state legislators directly, providing these legislators with input and direction from the PVPUSD. After meetings in the legislators' offices were scheduled a group, consisting of a couple students and a mix of parents, teachers, and administrators, worked to lobby for four main points.
First, the students advocated for the support of legislative bills SB 436 and AB169 which both aimed to address California's 12 year teacher shortage, specifically in the fields of STEM, bilingual education, and special education.
"It is important that students have the opportunities that come with an education from high reaching teachers in specialized fields in order to develop the skills necessary to thrive in the modern world," said Caroline Beecher, junior and student lobbyist for this year's trip.
Next, the students aimed to address the rising concern of mental health among teenagers. To achieve this, the students encouraged various legislators to support increased funding for wellness centers in schools, like the one on our very own campus. In addition to physical wellness centers, students brought up the benefits of supplying schools with more wellness programs and mental health counselors. Many student lobbyists felt a personal connection with this point, seeing as it frequently impacts individuals in their age group.
After lobbying for the funding connected to mental health, the students shifted gears to address the issues surrounding the CAASPP testing for juniors. To combat this concern, the students proposed substituting the ACT or SAT for the CAASPP. The students argued that this change from a week long test to one that lasts about four hours would be much more efficient for the school district. In addition, this would allow more students to take these college entrance exams and thus put more students on the college bound track.
"The ACT and SAT tests make more sense because many students care and prepare for these tests. Unfortunately, I do not think the legislators completely understand the wide range of benefit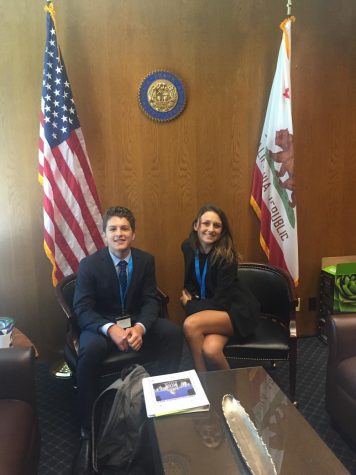 s this substitution would entail," said Keaton Heise, junior. "Students need to continue advocating for changes like these that will positively impact our lives."
Lastly, students advocated for more funding at the base grant level for all students in all California school districts. The disparity in federal funding within California causes school districts like PVPUSD to look for monetary support more locally. Raising the base level funding means more funding for more affluent schools while still providing for the resources necessary to maintain less fortunate school districts. This is an issue that has been pushed by our school district for years.
Aside from the lobbying points, the trip had other far-reaching consequences in the lives of the students that attended, such as new ideas about future careers in government. "The experience was action-packed. We did a lot within a two day span," said junior Kevin Liu. "I had the opportunity to meet different people who share my opinions."
From all the students who attended Capitol Convoy, we thank you PTSA for a rewarding experience at the capital, and we hope our efforts will make a positive difference in our school district.