Can't Catch Her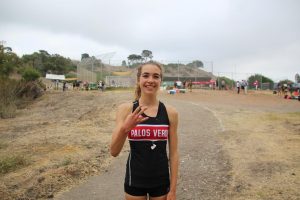 Savannah Scriven, Varsity runner for PVHS girl's cross country, recently broke a long standing school record.
She finished the Woodbridge sweepstakes race with an astonishing time of 16 minutes 28 seconds and placed sixth overall.
"It felt like a combination of things. Mentally, I feel like I do best when I am excited or nervous for a race," Scriven said.
Scriven can recount her experience with the shot of the starting gun.
"When the race went off I knew it was going to go well because my legs didn't feel sore. In races past, my legs weren't heavy so that just reassured me that I was feeling good."
In order to place highly at championship races like Woodbridge, extremely fast paces need to be met throughout the whole race.
"During the race I thought, I can keep going even though this is super fast. The first mile went out in under 5 minute 20 seconds, it was insane," Scriven said.
Scriven achieved a personal record at the Woodbridge race. She attributes her success to a strict practice and work ethic.
"I have a good coach and success comes from doing what he says, not slacking off. When you're out on the road, he's not going to know if you don't do the running," Scriven said.
Scriven believes she has grown significantly since freshman year.
Scriven accounts this growth to her training and experience.
"I think freshman year we had one of the best teams. I was still a part of that, but sometimes more toward back end, Now I'm more confident," Scriven said.
"I thought being the top person would feel like you have the whole weight of the team on your shoulders. But now I realize every person counts and I share the number. So it's not like I'm carrying the team. Every single person on the team is carrying it together," Scriven said.
Scriven currently is in the process of committing to a college. She has had an extraordinary season so far and more great things are sure to come in future races.
Scriven continues to race past not only school records, but all her competition, too.