Discussion Without Depiction: How J.K. Rowling got "Harry Potter" Wrong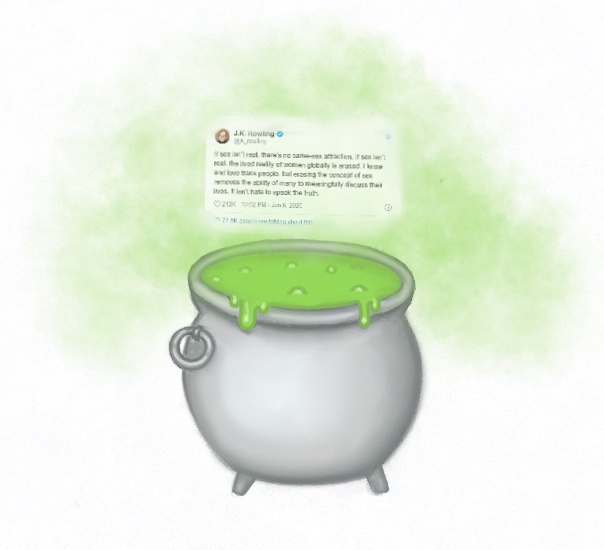 Divination, dementors, dragons, and discrimination? 
"Harry Potter" and its creator have recently come under the public scrutiny for discrimination against queer people and minority groups. 
The first "Harry Potter" book was published more than two decades ago, and it is still one of the biggest franchises of all time. J.K. Rowling, the author of the books, is hailed as a literary trailblazer by many, and was named the first billionaire author. Everything from eight high-grossing movies to a Universal Studios theme park have been created to keep the magic of the books alive. 
Now that the magic is trending again, however, more and more people are speaking out about how non inclusive it seems to be. The root of the problem seems to come from the creator herself. Rowling has earned a reputation throughout the years for being a TERF: a transexclusionary radical feminist. 
Starting with a series of tweets, and then a multitude of public essays, Rowling has expressed her views on "gender and sex issues." Her views are concerning and problematic, to say the least; she alludes to people struggling with their gender identity as being "predatorial" and confused. 
Rowling's ideas have also manifested themselves into her latest book called "Troubled Blood", which is about a male serial killer who dresses up as a woman in order to catch his victims. Many critics have noted that the main moral of the story seems to be to never trust a man in a dress. Rowling also writes under the pseudonym of Robert Galbraith, an anti-LGBTQ+ psychiatrist who promoted conversion therapy, but she denies any connection. 
Another glaring issue with the franchise seems to be the lack of diversity in the books and movies of "Harry Potter" (two of which Rowling co-produced). Rowling actually seems to be aware of this, and tries to cover for herself on social media by tweeting random, post-publication interpretations of the books and characters. 
In one tweet, she claimed that Hermione Granger was actually African-American, and that Albus Dumbledore was gay. Many people insist that Rowling's tweets are attempts to overcome her "guilt" about the lack of minorities and queer people in her novels. They question why she would discuss these things years after publication, while still not writing about any of them in her books. 
Practically everyone in the world has read or heard of the "Harry Potter" series, which is why Rowling's opinions are so dangerous. Rowling is still a writer with a huge platform, and her words can have a negative impact on her large, impressionable audience, especially her LGBTQ+ fans. She needs to stop posting public essays and tweets perpetuating harmful stereotypes onto the transgender community. 
Rowling also needs to directly acknowledge that her books may have not been the most inclusive (instead of making up post publication interpretations to appease people on Twitter), and say that she is willing to portray more minorities and queer characters in her future publications. 
J.K. Rowling, the "wizard" behind the most successful book series in the world, needs to take accountability and reinforce that the lasting magic of "Harry Potter" is for everyone.