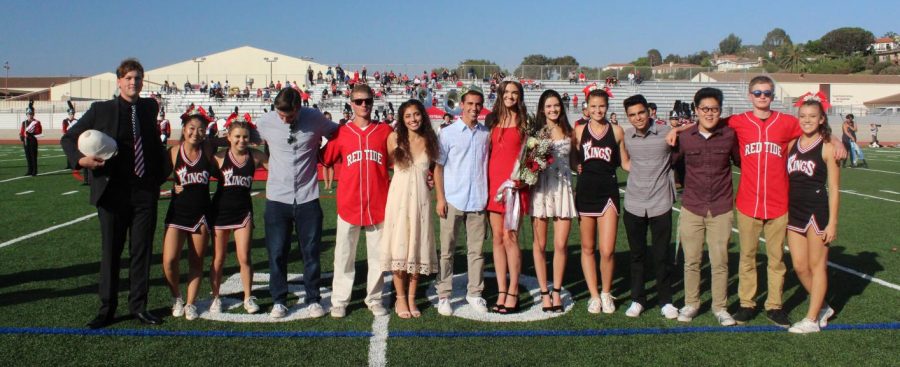 Jacob Dominguez
Here at PVHS students are used to the finer things in life. But during homecoming week, Sea Kings took a walk on the wild side.
This year's homecoming held the theme of a jungle.
Homecoming didn't just include a one-night dance, but an abundance of jungle-themed posters and decorations placed around the school.  
Regarding the posters and animal balloons found at PV High, freshman Rebecca Aycock said, "The decorations, were like 'wow.' On Monday I walked in and I was like, 'Oh my goodness.'"
With these decorations came themed days for students to participate in all throughout homecoming week.
The days of the week went as planned with many stdents participating.
Monday: Monkeying around Monday. Sophomore Rex Ringer said "A bunch of people dressed up with what they don't normally wear. It was cool to see what kind of crazy clothes people had."
Tuesday: Tacky Tourist theme day. Junior Hadley Richards said, "My favorite day was probably Tacky Tourist Tuesday. I really went all out on that day. I just think it's really fun to see everyone goofing around."
Wednesday: Pajama day. Senior Mary Cooper said, "[My favorite day] was Pajama day. Just because I like not having to pick out stuff."
Thursday: Dress for success. Sophomore Rhiannon Pailet thought "it was really cool that people got to wear fancy clothes, because people don't normally get to do that unless you go to cotillion or assembly."
Friday: Game day! Red Tide leader and senior Bo Henderson said, "I think the dance after and Homecoming will get a lot more people out so the crowd will be fun."
The football team pulled off a win after an exciting game against Redondo. Sophomore Derek Roah kicked a 42-yard field goal to bring Sea Kings to a 37-34 victory. During halftime, the Homecoming King and Queen were announced. Senior Kevin Crump won the crown. For the first time in PVHS histoy, two queens took the tiaras. Izzy Barajas and Nicole Halverson won the hearts of their peers.
Homecoming night: Ellie Darcey-Alden stated,  "I'm graduating this year, so it's nice to be in a place with everyone who you've spent the past four years with. Just sort of experiencing it together even if you don't necessarily know each other is amazing," she said.
The entire week was enjoyed by many.
"I've gone to the homecoming dance every year that I've gone to this school.  It's pretty hot and sweaty, but it's a good time. Overall it's good and fun," said Cooper.
With students of all ages attending and gettng in touch with their alter egos, they were ensured a wild time from the start.