Haters Gonna Hate Hate Hate Hate Hate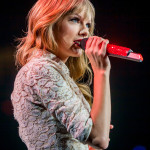 Rising star Taylor Swift "shook off the haters" in her 2014 album titled 1989, released Oct. 27, 2014. Transitioning from her previous country style, Swift confirmed her decision to become all pop with 1989. Regardless of her various reasons to change her style, Swift has dominated the stage of pop music, with 1989 reaching number one on iTunes within the first day it was released. An amazingly cultured work that showcases Swift's encounters with new styles of music, 1989 is a mixture of genres such as pop, alternative, and a bit of Taylor's own style.
While Swift has attracted a large number of new fans with her use of strong track beats and catchy melodies and lyrics, some earlier fans disagree with her newly electronic and pop-oriented sound. However, many older fans have stayed loyal and true to her music, such as senior Kevin Hsu, who has been a fan of Swift since her release of Fearless in 2008.
"I believe that, over the course of a career, artists have to evolve, and that is exactly what she has done," said Hsu. "I actually love her pop-oriented sound. It makes her more accessible to new fans, but it has enough of her own unique style to keep it from sounding generic."
Despite having a unique style, there are many people who think Swift's use of auto-tune throughout 1989 was a bit over the top.
"I don't like auto-tune because she clearly has a good voice and talent," said senior Melanie Beecher. "There's no need to make her into something she's not."
Even Hsu, a truly dedicated fan, feels that the auto-tune was a bit too much.
"I think that she is sacrificing some of her genuine sound to appeal to a wider audience, one of the big pitfalls of taking a more mainstream approach to music. But when she does showcase her voice, even if it is imperfect, those are the tracks that really make a deep impression, and on 1989, she has lost some of those flaws that make her so relatable."
Auto-tune is definitely a factor that takes from the personal experience of listening to an artist's voice. However, while auto-tune is prevalent throughout the album, much of what is confused as "auto-tune" is simply a variety of electronic effects used widely in the pop world today. These effects are consistently confused with auto-tune, leading fans and critics to look down upon an artist's work.
Yet, it seems that no matter what path she chooses to go, Swift will always have her fiercely loyal fan base at her back.
"I think that her reliability is really what connects me to her," said Hsu. "She isn't perfect, but that's why I love her, because in real life, people aren't perfect. They have ups and downs, and you just have to roll with the punches. That is why Swift's music, with its diverse sounds and voices is so appealing. It's a depiction of an artist who understands what it is like to be a regular person with regular problems."